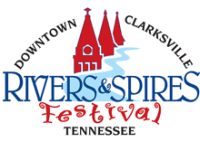 Clarksville, TN – On Saturday, April 26th, at 1:30pm, the Backroad Brigade took the Courthouse Stage at the 2014 Rivers and Spires Festival playing in front of a large audience.
I first noticed the band, while I was walking up Franklin Street. I heard their music coming from down North Second street, rock and roll with a blues kind of edge.
Lead Vocalist and Bassist Dalton Akins, lead guitarist Matt White and drummer Seth Ely have been performing together since 2011.
They put on a performance that was pure rock 'n' roll delivered with an energy that transferred to the audience. The band was tight, like veterans that had been playing together for a much longer time.
"I was passing by and stopped to listen to the band. They played really well," stated Paul Wyatt. "I enjoyed it a lot."
Backroad Brigade started their set with a cover of "Seven Nation Army", followed by one of their originals   "Bright Lights". The rest of the set included: "Working Man Blues", "Cruzin" (original), "Kryptonite", "Ghost" (original), "Aint No Rest for the Wicked", "Wild Woman" (original), "High Roller" (original) and "Simple Man".
"I was watching Backroad Brigade at Rivers and Spires and I really enjoyed the music," commented Christy Holt from Clarksville. "I think they did a really good job not only with their original songs but with the songs from other bands as well. They had a good beat and clarity."
Their latest release "Ghost" is available on iTunes, Amazon and Google Play.
"They did an awesome show. A Great group of guys. They did some cover songs and original stuff. They did a real good job," said Brandon McCurdy from Clarksville. "Right now, I plan to go to iTunes and download their new single 'Ghost'. I'm excited about that."
Backroad Brigade is an American Rock band from Clarksville Tennessee. They are a multi-faceted band with influences ranging from the 60s through the 80s Rock, Blues, and Indie Rock.
Their sound is blended from many elements making them unique and different from anyone around. They play songs from Elvis to AC/DC to Jack White.
They have performed on the same ticket as Charlie Daniels, Marshall Tucker Band and Blackberry Smoke. They are very passionate about writing and performing their own material. Their music can be purchased on iTunes and Amazon.
For more information, visit them on Facebook, Twitter, Instagram, youtube or their Website. For booking information, email them at .
Upcoming Shows
Tilted Kilt –  Friday, May 2nd from 8:00pm-11:00pm
Paris Landing – Saturday, June 7th from 7:00pm-9:00pm
Photo Gallery
Videos