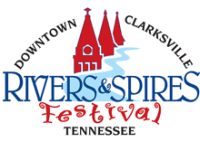 Clarksville, TN – It was a record setting year for Clarksville's 2014 Rivers and Spires, as the streets of Historic Downtown Clarksville saw over 41,000 Festival attendees over the April 24th-26th weekend.
Festival organizers say that this year's event was the second largest Rivers and Spires to date, falling right behind the 2010 Festival.
"In the 12-year history of Rivers and Spires, this year marks the second time we have seen over 40,000 people line the streets of downtown," said Theresa Harrington, Executive Director of the Convention and Visitors Bureau. "The Festival definitely did what it was supposed to do; bring people downtown, promote the community and offer free family entertainment for all ages. We are very pleased with how the event went this year."
Attendance numbers are calculated through ticket sales, as well as the weight of garbage and recycling collected over the three days. This year, the Festival collected over two tons of recyclable plastic and aluminum, helping to support the community's green initiative.
The 2014 Festival brought new and exciting changes to their line-up by adding a Sports Zone, expanding the Military Appreciation Area and including more interactive booths in the Family Fun Zone. There was also the addition of a Gig City Gaming area, which drew over 4,200 attendees on Friday and Saturday. The additions to the Festival line-up helped to ensure that everyone had something to keep them entertained for hours.
The community-driven Festival is free every year, largely because of the sponsors, the army of volunteers who donate their time and the support of the city and the county. This year, more than 600 volunteers contributed to the effort. Vendors from as far away as Virginia, the Carolinas and Florida also came to town for the event.
"The Festival was a tremendous success this year and we appreciate the support of our sponsors, the volunteers, the city and the county. An event of this scale wouldn't be possible without each them," said Jessica Goldberg, Festival Director.
The fun will continue again next year when the Rivers and Spires Festival goes into full swing on April 16th-18th, 2015.