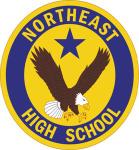 Clarksville, TN – Northeast High School's baseball team did what it needed to do in its matchup with Springfield High School, May 6th in an elimination game in the District 10-AAA tournament, as the Eagles pounded out 15 hits in scoring 13 runs in a 13-3 – five inning – victory over the Yellow Jackets.
With the win, Northeast (23-12-1) advanced to a rematch with Rossview High School, needing to know off the Hawks twice to advance to the tournament finals.
It didn't take long for the Eagles to put some runs up on the board against Springfield (12-23-2), with Ben Wilford opening the first inning with a single, steal second base and score on a dropped pop-up by Yellow Jackets' second baseman Nathan Vaughn.
Later in the inning, Luke Veltri blasted a home run just inside the left field foul pole to make it 2-0 Northeast.
"We told them today to just take it one game at a time," Northeast coach Dustin Smith said. "We had to beat Springfield to have a chance to play Rossview again and we came out and took care of business and swung the bats really well."
That would be just the start of the offensive onslaught the Eagles would tally against Springfield, as the Eagles added three more runs in the second inning in six hits and two more Yellow Jacket errors.
Landon Dennis started the inning with a double and scored when Justin West followed with a single.
West would later score on a throwing error by Vaughn, with the final run of the inning coming in on a Devin Runkle single to make it 5-0.
That would be all the runs that Northeast starter Matt Heggie would need, as he limited the Yellow Jackets to three runs on six hits, while striking out three.
The Eagles on the other hand had six players record two hits each in the victory.
Northeast would break the game open in the bottom of the fourth inning, as they 12 men to the plate in scoring seven runs to go up 12-3.
Highlighting the seven-run outburst was a two-run single from Runkle and a RBI single by Dennis. Clayton Caskey also had a RBI sacrifice fly in the inning.
The Eagles would end the game in five inning, with the 10-run mercy run by scoring their 13th run on an RBI single by Caskey that drove in Justin Collins.