Montgomery County, TN – On Tuesday, May 27th, Tennessee State Senator Mark Green presented Emergency Medical Services A-Shift with Proclamations from the State of Tennessee, along with state flags that have flown over the Capitol, for their heroism that he recently witnessed on an accident scene.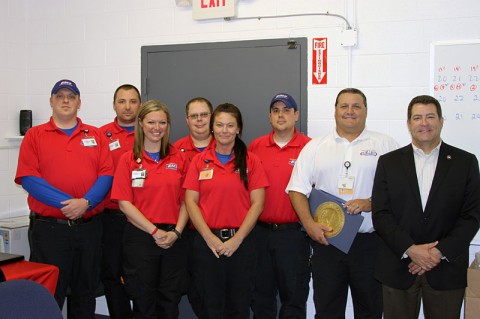 On March 13th, 2014, Senator Green was on his way down Highway 12 when he came upon the scene of a horrible motorcycle wreck. Green, a trained emergency room physician, stopped to see if he could assist.
What he found was an EMS team that was working feverishly to save a life, using techniques and out of the box thinking that amazed him.
"What I witnessed in the back of the ambulance was remarkable without the amenities of an emergency room setting," stated Green. He continued, "Montgomery County and its residents are fortunate to have such a well-trained and forward thinking EMS team."
EMS Chief Jimmie Edwards states, "I am extremely proud of what our EMS personnel do every day. We have a very highly trained and credentialed team and it's certainly nice to have that recognized by Senator Green."
Those on the accident that day included: Captain Gary Perry, Field Training Officer Jesse Ferrell, Paramedic Joe Gluff, EMT Stephanie Read, EMT Caleb Hall, Paramedic Matt Sandifer and EMT Jennifer Earp. Vanderbilt LifeFlight crew was also on scene and ultimately transported the patient to Nashville.