Austin Peay Sports Information

Clarksville, TN – Kirby Cannon has turned within the program to hire the latest Austin Peay State University football assistant coaches.
Brandon Jordan, who played for Cannon at Missouri S&T and then served as graduate assistant a year ago, has been hired as defensive line coach while Leron Eaddy, who followed Cannon to Clarksville from Central Michigan to play his final football season, will be the program's defensive back coach.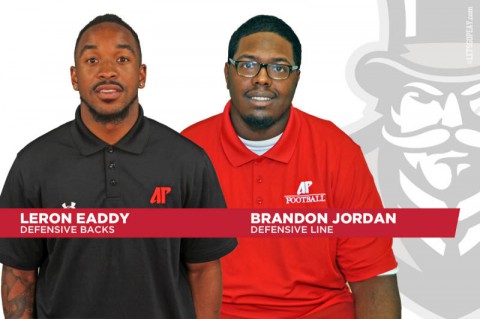 Jordan replaces Pat Donohoe, who departed the program after the 2013 season, while Eaddy replaces Granville Eastman, who left APSU to become the defensive coordinator at North Carolina Central.
Both Eaddy and Jordan served in their respective coaching positions in the spring after Donohoe and Eastman departed. Eaddy, who played for Cannon as a defensive back at Central Michigan, again will be working alongside of the head coach, who also will serve as defensive coordinator while also helping coach the Govs' secondary.
Jordan served as offensive line assistant to Jason Palermo last fall but flipped over to the defense this spring.
Cannon was impressed with the respective coaches' progress in their spring roles and knew they were the right fit for the program.
"Leron and Brandon are going to give this program something it needs," Cannon said. "We expect great things from them. They both were outstanding players and had respect from their teammates. That is what gives them a good chance of being able to coach effectively at such a young age.
"One of the reasons I hired them is that I know them so well and they know me. It is just going to make us more efficient as a coaching staff."
Jordan was recruited out of New Orleans by Cannon and was a starter at offensive tackle during the S&T 2007 season before suffering a severe hamstring injury at Missouri State in Game 2. He regained his starting spot in 2008. After graduating from Missouri S&T in 2009, he transferred to Northern Michigan in 2010 for his final year of eligibility.
He spent significant time rehabbing the injury and played football overseas. He was selected to represent the United States in the World Championship of American Football in 2011. He competed professionally in arena football for the Norway Bergen Storm and Paris La Courneuve Flash. He also went to training camp in the Arena Football League with his hometown New Orleans Voodoo.
He entered coaching in 2012, working as assistant offensive line coach with his alma mater in Rolla and helped that club post a 12-1 record as tackles coach.
"This is a great opportunity," Jordan said. "It was great having a year to work with Coach Cannon and the other coaches on this staff. It has been a great learning experience. It made me a better coach and taught me how to go about my business."
He leaned on his experience as an offensive lineman and linebacker coach Kyran Weaver in the spring as he flipped sides of the football.
"Brandon was an outstanding player for us at Missouri-Rolla," Cannon said. "The experiences we have had together are going to make us more effective day-in, day-out. He knows what I want from a playing standpoint, a discipline standpoint and recruiting standpoint—he understands exactly where we are heading.
"I am not there every moment every day and just having the confidence that Brandon and Leron are disciplining it, administrating it, coaching it exactly the way I want it done. There is no indecision. That is important as we move this program forward."
"Playing O-line and coaching against it is pretty similar," said Jordan. "I knew some of the things the O-line looked for in going against the D-line. I know about the transition the D-line needs to do technique-wise. And having Coach Cannon and Coach Weaver just showing the little things about it really benefitted me. It is all about technique. You start with the fundamentals and perfect those—keep building on it.
"Coach Cannon is a great coach to learn from. My first year I was just like sponge, taking everything and helping build me as a coach, hopefully, being a great coach like he is someday."
A Clarksville, MD native, Eaddy redshirted early in his Central Michigan career because of an injury. So he joined APSU for his fifth and final eligibility year with a degree in hand. After playing 30 games for Central Michigan, he moved into the Govs' starting lineup at safety and was the team's third-leading tackler (60).
After playing alongside rising seniors Johnathan Shuler, Montez Carlton and Buddy Mitchell a year ago, he quickly was forced to transition to coaching them this spring.
"It was a lot of mixed emotions at first (going from playing to coaching)," Eaddy admittedly said. "It was a little difficult not being out there this spring, especially with the guys I played with. But the transition went a lot smoother than I thought it would.
"The players and I always have had a good connection and respect for each other. I am ready to start something new. I am excited about it."
"Leron served as a source of information and coaching as a senior in this program," Cannon said. "The kids had great respect for his ability but also his personality and his ability to help other players—he was able to help a lot of kids. He has made the transition very quickly.
"Leron has a great energy level, a deep knowledge of the game and he loves the game of football. All those things can make you a very good coach."