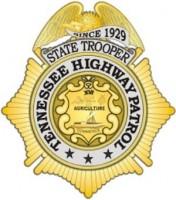 Nashville, TN – The Tennessee Highway Patrol arrested a Murfreesboro man on Sunday night after a hit-and-run incident involving a six-year old child in Smyrna.
Jan Kevin Cooley, 52, was charged with aggravated vehicular assault, leaving the scene of an injury crash, driving on a revoked driver's license and possession of drug paraphernalia.
He was booked into the Rutherford County Jail.
Cooley was driving a 2000 Chevrolet Monte Carlo on Polk Drive in Smyrna, when he struck the male juvenile on his skateboard at approximately 7:30pm on Sunday.
The suspect stopped the vehicle and examined his car and the injured child before fleeing the scene.
Witnesses followed the suspect to the Chrisman Motel in Smyrna and notified authorities of the driver's location. THP and Rutherford County Sheriff's Department officials arrived on the scene and initiated the preliminary investigation. State troopers confirmed with motel management that the suspect was a registered guest and attempted to make contact with the suspect.
However, investigators failed to get a response by phone or through in-person attempts. THP personnel then requested assistance from the agency's Special Operations Unit and Criminal Investigation Division (CID).
After securing felony warrants from the Rutherford County District Attorney's Office, investigators made plans to breach the motel room door due to the suspects' non-responsiveness. The Highway Patrol's Special Operations troopers breached the door and made entry into the room, taking the suspect into custody without incident.
The six-year old child was transported to Saint Thomas-Rutherford Hospital with non-life threatening injuries.
This incident remains under investigation.