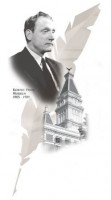 Clarksville, TN – Ellen Taylor, a Master Clinician in the Martha Dickerson Ericksson College of Education and former President of the Felix G. Woodward Library Society, introduced Sue Freeman Culverhouse to approximately 100 attendees of the Thursday luncheon for Clarksville Writers' Conference 2014 at the Morgan University Center of Austin Peay State University. Describing Sue's teaching music at Watauga Elementary School in Ridgetop, Tennessee, Mrs. Taylor said that until one has had 55 kindergarten students playing xylophones at one time, no one can imagine the life of a music teacher.
Taking the podium, Culverhouse spoke on her book, Tennessee Literary Luminaries: From Cormac McCarthy to Robert Penn Warren (The History Press, 2013). Tennessee Literary Luminaries which features biographies of renown Tennessee authors Robert Penn Warren, Alex Haley, Peter Taylor, Eleanor Ross Taylor, Cormac McCarthy, William Gay, Bud Willis, Alice Randall, A. Scott Pearson, Amy Greene and Marshall Chapman.
Opening her speech with a quick rendition of a few lines from "I Am the Very Model of a Modern Major-General," a patter song from "The Pirates of Penzance" by Gilbert and Sullivan, Culverhouse told the audience that she had only a 15-minute window for her speech and had considered a version of the song to describe the eleven authors in her book.
She had to squelch the idea because as a Southerner, she could not make either her tongue move that quickly nor her ears comprehend at that rate. She gave a brief description of each author as a consequence by using only phrases rather than complete sentences.
Ending with Marshall Chapman's description of her ride on Willie Nelson's bus, Culverhouse told the audience that her complete speech from Metro Nashville Archives is now on YouTube when one searches "Sue Culverhouse" and that her website is sueculverhouse.com.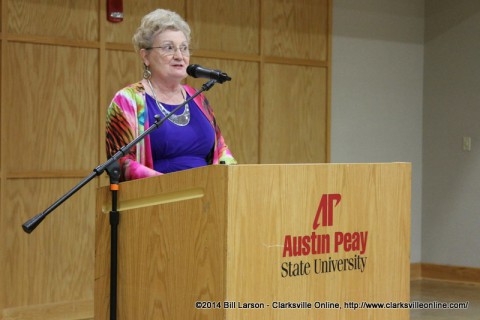 Culverhouse is also author of a self-help book, Seven Keys to a Successful Life. Her first book, To Cure Sometimes, To Comfort Always, is the history of Blue Ridge Hospital and Sanitarium in Charlottesville, Virginia. She is the recipient of two Virginia Press Awards from her work at the News-Virginian, a daily newspaper in Waynesboro, Virginia.
She has published articles and photography in national magazines including Historic Preservation, American Horticulturist, Americana, Flower and Garden and many others, and has been a weekly newspaper columnist in both Virginia and Tennessee.