Clarksville, TN – The weekly Clarksville Parks and Recreation Department Recreation Report provides Clarksvillians with a glimpse at the activities and events that are available from the Parks and Recreation Department for them to enjoy together as a family.
This weeks highlights include: Clarksville's Wonder Kids Triathlon, Rally on the Cumberland Canoe and Kayak Race, Independence Day Celebration and Adaptive Yoga to start in July.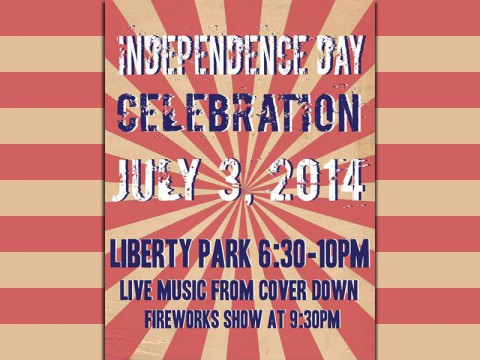 Registration is underway for Clarksville's Wonder Kids Triathlon!
The Clarksville Parks and Recreation Department is excited to host the 2nd Annual Wonder Kids Triathlon to be held August 2nd! This event is open to boys and girls ages 3-12 and will take place at New Providence Pool and surrounding area of 166 Cunningham Lane.
Just like in a traditional triathlon, the Wonder Kids Triathlon athletes will participate in three legs of the event: swimming, biking and running.
Each course varies depending on age:
3-5 Yrs: 25 meter Swim, .25 mile Bike, 100 yard Run
6-8 Yrs: 50 meter Swim, .5 mile Bike, .25 mile Run
9-12 Yrs: 100 meter Swim, 1 mile Bike, .5 mile Run
Cost to participate is $25.00 per child and pre-registration is required. There will be a limit of 150 participants in this year's event so be sure and register early! Registration can be completed at the Clarksville Parks and Recreation Main Office, located at 102 Public Square, any of the City's three community centers, or online at recpro.cityofclarksville.com. Participants must register no later than July 18th.
Participants must be registered by July 5th to be guaranteed correct size shirt and swim cap.
Rally on the Cumberland Canoe and Kayak Race Registration Deadline Extended
The Clarksville Parks and Recreation Department will host the Canoe and Kayak Race on July 12th at Liberty Park. The race will be held in heats beginning at 8:00am at the Montgomery County Conservation Club, located at 1182 Seven Mile Ferry Road, and finishing at Freedom Point in Liberty Park.
Racers must arrive by 6:45am the day of the race to check in and will be transported from Liberty Park to the Conservation Club to begin the race. Participants must provide their own canoe.
Boats may be rented from Blueway Adventures, LLC (931.320.8466) or Run-A-Muck Outfitters (931.551.6606) prior to completing registration for the race.
Cost per person to enter the race is $10.00 for ages 13-17 and $20.00 for those 18 and older.
The deadline to enter is now July 8th. Registration can be completed online at recpro.cityofclarksville.com by clicking the "City Events and Competitions" tab, and then selecting the appropriate category from under the "Blueway Events & Activities" category.
City of Clarksville's Independence Day Celebration to take place July 3rd at Liberty Park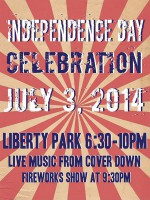 The City of Clarksville is celebrating our nation's independence this year with the seventh annual Independence Day Celebration on Thursday, July 3rd, 2014 at Liberty Park for food, fun and entertainment for the entire family.
The event is free and begins at 6:30pm.  Seating is available throughout the park and the concerts will take place on the Great Lawn of the Wilma Rudolph Event Center.
Staff Sergeant Scott Letourneau of the 160th Special Operations Aviation Regiment will begin the festivities with the singing of the National Anthem. Local performers Eight O'Five Jive will provide live music throughout the evening, followed by Cover Down and fireworks for the Grand Finale! In addition to musical entertainment, vendors will offer a variety of favorite foods, including hotdogs, funnel cakes, shaved ice, philly cheese steaks and much more.
For more information about parking, closures and event rules, visit www.cityofclarksville.com
Adaptive Yoga to start in July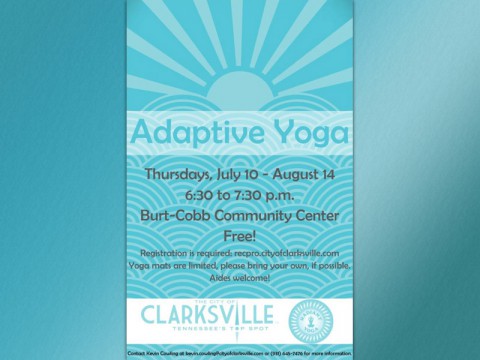 Clarksville Parks and Recreation is excited to announce the launch of a new program! Beginning Thursday July 10th, The Burt-Cobb Community Center will host Adaptive Yoga. Adaptive Yoga is a beginner yoga class for those members of the community with cognitive disabilities.
Classes are offered every Thursday evening from 6:30pm to 7:30pm, beginning July 10th, 2014 through August 14th, 2014. Instructed by Radiant Yoga's very own Trish Nagy, participants will learn useful relaxation and calming techniques. Adaptive Yoga is also an excellent way to improve fitness levels with gentle progression.
Aids are welcome to participate. Yoga mats are limited; please bring your own if possible. Adaptive Yoga is free and open to all age groups!
Pre-Registration is required and can be found at recpro.cityofclarksville.com