Clarksville, TN – Clarksville Parks and Recreation Department became the latest organization to complete the requirements for the Clarksville-Montgomery County Green Certification.
Montgomery County Mayor Carolyn Bowers and City of Clarksville Mayor Kim McMillan were there to congratulate the Clarksville Parks and Recreation employees for their certification.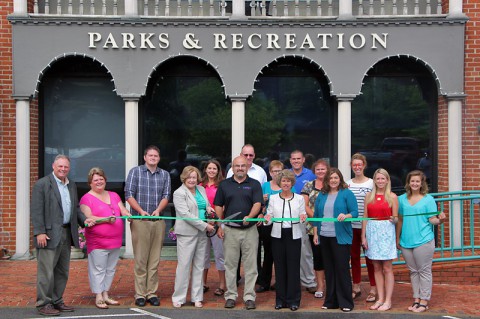 Bowers asked them to share what they had done to become CMC Green Certified.
Manager of Operations and Planning, Kevin Cowling, who led the certification effort, shared, "We have upgraded our lighting when feasible, switched to organic products when possible and continue to better ourselves when it comes to recycling and repurposing within the Department."
"As a parks and recreation agency, the outdoors is our playground. You only have so much land, if we aren't at the forefront of the green movement we are doing ourselves and our citizens a huge disservice," said Mark Tummons, Director of Clarksville Parks and Recreation.
Clarksville Parks and Recreation is a citizen and tax payer funded organization that organizes events, programs and maintains facilities to enhance the quality of life for the citizens of Clarksville, Tennessee. The Department has 25 parks, over 10 miles of trails and maintains over 700 acres of park land.
For details on how your business can participate in the Green Certification Program, contact Michelle Newell at .