Montgomery County, TN – To track down some criminals who have been on the run, it takes hours of investigations, checking up on tips and checking address, and Deputy Cody Lannom did just that during a warrants round-up over the past couple of days.
Lannom said the round-up, carried out by the Montgomery County Sheriff's Office Warrants Unit, the U.S. Marshals Service and Clarksville Police Department led to the serving of 20 felony warrants.
Last night, Noah Williams, 27, who gave a 543 Riggins Drive address, was arrested on several warrants including drug warrants, burglary and theft. His bond was set at $350,000.
"I had been looking for Williams for the last month-and-a-half, and I just kept missing him," Lannom said, adding that he worked with CPD. "I had a tip that he was in an apartment above (a local bar) and we surrounded him and picked him up."
With Williams was Jodi Green, 18, who gave a 117 Hyman Street address, who was arrested on various drug warrants. Her bond was set at $145,000.
They also located and arrested Devan Matlock, 24, a wanted fugitive from Kentucky and Carlos Kelly, who Lannom also received a tip on and investigated his whereabouts. Kelly, 40, was charged with violation of parole. Matlock's bond was set at $250,000. Kelly is being held without bond.
On Wednesday night, Lannom also learned the whereabouts of Billy Baggett, who has 36 years to serve, and who had been on the run for several months.
"Deputy Lannom continues to prove his resourcefulness while interacting with the community," said LT. Cliff Smith, Patrol and Warrants Commander.  "It is his innate talent that lends to the success in our agencies' warrant section"
Noah Williams
Name: Noah Williams
Date of Birth: 3/ 20/ 87
Gender: M
Race: W
Address: 543 Riggins Drive, Clarksville, TN
Arresting Officer: Cody Lannom
Changed With: Criminal Impersonation, 2 Counts Theft of Property, Driving on Revoked License, Unlawful Drug Paraphernalia, 2 Counts Aggravated Burglary, Vehicle Burglary, Promotion of Methamphetamine Manufacture, Forgery, 2 Counts Simple Possession/Casual Exchange, Unlawful Drug Paraphernalia
Booked Into: Montgomery County Jail
Bond: $350,000.00
Jodi Green
Name: Jodi Green
Date of Birth:    3/ 18/ 96
Gender: F
Race: W
Address: 1117 Hyman Street, Clarksville, TN
Arresting Officer: Dennis Honholt
Charged With: Promotion of Methamphetamine Manufacture, 2 Counts Simple Possession/Casual Exchange, Unlawful Drug Paraphernalia, False Report
Booked Into: Montgomery County Jail
Bond: $145,000.00
Devan Matlock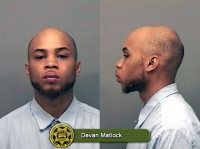 Name: Devan Matlock
Date of Birth: 9/ 12/ 89
Gender: M
Race: B
Address: 708 Pineridge Drive, Hopkinsville, KY
Arresting Officer: Cody Lannom
Changed With: Fugitive – Wanted By Another State (ID Offense)
Booked Into: Montgomery County Jail
Bond: $250,000.00
Carlos Kelly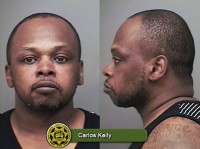 Name: Carlos Kelly
Date of Birth: 11/ 26/ 73
Gender: M
Race: B
Address: 696 Buttercup Drive, Clarksville, TN
Arresting Officer: Cody Lannom
Charged With: Violation of Parole
Booked Into: Montgomery County Jail
Bond: $0.00
Billy Baggett
Name: Billy Baggett
Date of Birth:    5/ 6/ 62
Gender: M
Race: W
Address: 4263 Budds Creek Road, Cunningham, TN
Arresting Officer: Cody Lannom
Charged With: Violation of Parole, Theft of Property
Booked Into: Montgomery County Jail
Bond: $75,000.00