Topic: Promotion of Methamphetamine Manufacturing
Clarksville Police Department (CPD)

Clarksville, TN – Opioids have taken over the headlines and are considered an epidemic locally and across the country. But, the Clarksville Police Department and other law enforcement agencies still continue to battle other types of drug usage, even though opioids have taken center stage.
On January 21st, 2019 around 3:10pm, Clarksville Police Officers were called to a Heather Denise Court residence about a possible violation of an order of protection.
«Read the rest of this article»

Montgomery County, TN – A six-unit apartment complex on Baltimore Drive was quarantined today, August 25th,  after agents of the 19th Judicial District Drug Task Force found a methamphetamine lab in one of the units.
Joseph Fox, 47, who gave a 1611 Baltimore Drive Apartment 5 address was booked into the Montgomery County Jail on charges of promotion of meth manufacture.
«Read the rest of this article»

Montgomery County, TN – To track down some criminals who have been on the run, it takes hours of investigations, checking up on tips and checking address, and Deputy Cody Lannom did just that during a warrants round-up over the past couple of days.
Lannom said the round-up, carried out by the Montgomery County Sheriff's Office Warrants Unit, the U.S. Marshals Service and Clarksville Police Department led to the serving of 20 felony warrants.
«Read the rest of this article»

Montgomery County, TN – Two people have been arrested by Montgomery County Sheriff's Deputies in a methamphetamine lab found in a Westfield Court hotel earlier today.
Lisa Lejeune, 34, who gave a Haywood Court address, was arrested on charges in outstanding warrants as well as charges related to today's lab. Her bond was set at $85,000. Timothy Holliday, 27, was also arrested and charged with violation of probation, drug charges and on out-of-state warrants. His bond was set at $260,000.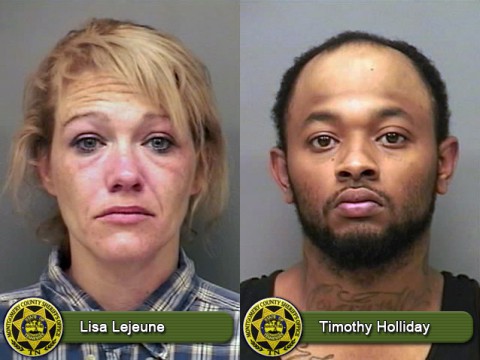 «Read the rest of this article»

Clarksville, TN – On Thursday, October 7th, 2013, Clarksville Police Officers conducted a traffic stop at 8:49pm near Cumberland Bank on Dover Road, where drugs were found along with an unknown liquid substance.
The unknown liquid substance is why the Clarksville Fire Department's Hazmat team was called and the road was shut down.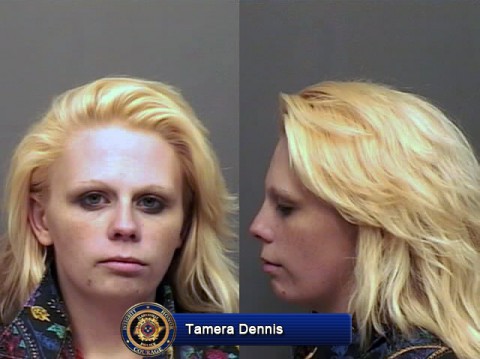 «Read the rest of this article»