Montgomery County, TN – A six-unit apartment complex on Baltimore Drive was quarantined today, August 25th,  after agents of the 19th Judicial District Drug Task Force found a methamphetamine lab in one of the units.
Joseph Fox, 47, who gave a 1611 Baltimore Drive Apartment 5 address was booked into the Montgomery County Jail on charges of promotion of meth manufacture.
John Ketter, 28, who gave a 612 Madison Street Apt. 7 address was also booked on charges of initiation of the process with the intent to manufacture methamphetamine and unlawful drug paraphernalia. His bond was set at $51,000.
Clarksville Fire Rescue and Montgomery County EMS assisted the agency.
This investigation into this incident is ongoing.
Joseph Fox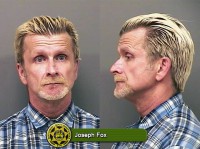 Name: Joseph Fox
Date of Birth: 6/ 4/ 67
Gender: M
Race: W
Address: 1611 Baltimore Drive, 5, Clarksville, TN
Arresting Officer: Christopher Bedell
Charged With: Promotion of Methamphetamine Manufacture
Booked Into: Montgomery County Jail
Bond: $0.00
John Ketter
Name: John Ketter
Date of Birth: 1/ 11/ 86
Gender: M
Race: W
Address: 1161 Baltimore Drive, Apt. 5, Clarksville, TN
Arresting Officer: Christopher Bedell
Charged With: Initation Proc.w/Intent to Result MFG-Meth, Unlawful Drug Paraphernalia
Booked Into: Montgomery County Jail
Bond: $51,000