Montgomery County, TN – Two people have been arrested by Montgomery County Sheriff's Deputies in a methamphetamine lab found in a Westfield Court hotel earlier today.
Lisa Lejeune, 34, who gave a Haywood Court address, was arrested on charges in outstanding warrants as well as charges related to today's lab. Her bond was set at $85,000. Timothy Holliday, 27, was also arrested and charged with violation of probation, drug charges and on out-of-state warrants. His bond was set at $260,000.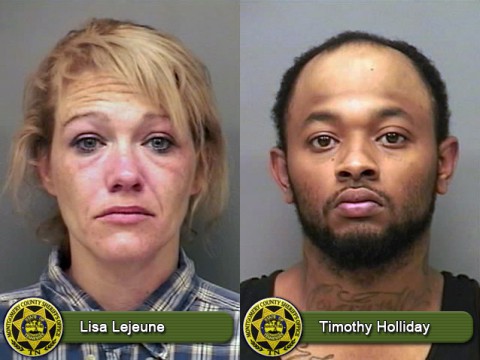 Deputies with the Montgomery County Sheriff's Office were attempting to serve warrants on Lejeune at the hotel when they noticed several items that are used in the manufacturing of methamphetamine.
The 19th Judicial District Drug Task Force responded, finding several items used to make meth as well as an active one-pot.
The investigation is ongoing, and no more information is available.
Lisa Lejeune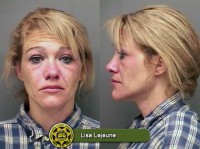 Name: Lisa Lejeune
Date of Birth: 3/ 10/ 80
Gender: F
Race: W
Address: 511 Haywood Court, Clarksville, TN
Arresting Officer: Cody Lannom
Charged With: 7 Counts Promotion of Methamphetamine Manufacture, Drugs-Initation Proc.W/Intent to Result MFG-Meth, Drugs-Simple Possession/Casual Exchange, Promotion of Methamphetamine Manufacture, Children Abuse & Neglect: Non Serious, Arrest – Evading Arrest, Drugs-Simple Possession/Casual Exchange, 2 Counts Drugs – Unlawful Drug Paraphernalia, Drugs-Initation Proc.W.Intent to Result MFG-Meth, Drugs-Sche. II (MFG, Sell, Deliver, Etc) Cocaine.
Booked Into: Montgomery County Jail
Bond: $335,000.00
Timothy Holliday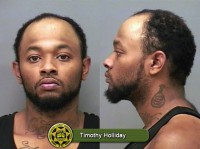 Name: Timothy Holliday
Date of Birth: 6/ 29/ 87
Gender: M
Race: B
Address: 222 Locust Street, Clarksville, TN
Arresting Officer: Cody Lannom
Charged With: Violation of Probation, 2 Counts Drugs-Simple Possession/Casual Exchange, Fugitive-Wanted By Another State (ID Offense)
Booked Into: Montgomery County Jail
Bond: $260,000.00