Austin Peay Sports Information

Clarksville, TN – The Austin Peay State University women's soccer team hosted Atlantic Sun foe Lipscomb in a rare Monday night matchup.
Behind the strength of two goals in less than six minutes, the visiting Bisons were able to overcome the Lady Govs, 2-0.
With the loss, Austin Peay drops to 1-3-0 on the season. Lipscomb improves to 2-2-1.
The Lady Govs were able to keep the Bisons at bay for the opening 20 minutes of the match, but surrendered the opening goal of the contest when Ellen Lundy headed home a cross from Anna Lail in the 21st minute.
The Bisons were able to extend their lead to 2-0 in the 27th minute when Niamh Rawlins took a shot from near the left sideline that made its way past keeper Katie Emig.
Offensively, sophomore Mary Ruth Locastro fired two shots on goal while the Lady Govs offense forced Bisons keeper Anna Buhigas to make five saves.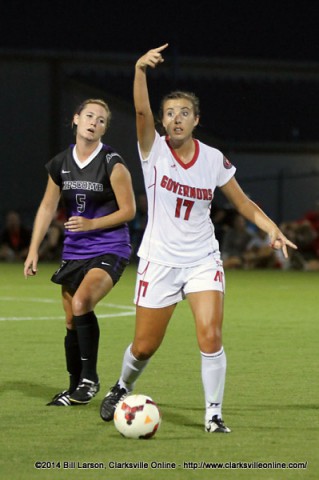 After being sidelined by injury the first three games of the season, junior Courtney Sheppard played 33 minutes, putting a shot on goal. Sophomore Alyssa Plowman, who played for Lipscomb in 2013, picked up 10 minutes of playing time against her former squad.
"Our youth really showed tonight, and it affected the result," said head coach Kelley Guth. "I thought we kept fighting though, and we were more balanced in the second half. The only way to get experience it to keep playing these types of games."
Defensively, sophomore Katie Emig made five saves in the first half, despite giving up two goals. In the second half, the Lady Govs held the Bisons to five shots, and freshman Lindsey Todd made three saves to keep the score at 2-0.
The Lady Govs return to action Friday with a 4:00pm match against Kennesaw State in the opener of the Blue Raider Classic, hosted by Middle Tennessee, in Murfreesboro. The Lady Govs then take on the host Blue Raiders (5:00pm, Sunday) before returning home for a match with Southeastern Conference foe Ole Miss (7:00pm, September 12th).
Photo Gallery