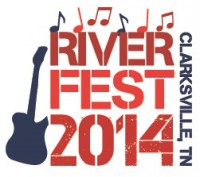 Clarksville, TN – The opening day of Riverfest was summed up in one word, hot! I was sweating from the moment I arrived at 5:00pm, until I left at 11:00pm. A chance of rain had been forecast but thankfully did not appear, or it would've made it even more humid.
Crowds begin trickling in shortly before the 5:00pm opening, and things picked up steadily through the evening. Turnout was lower than expected but that was likely due to people avoiding the heat, and the forecast showers.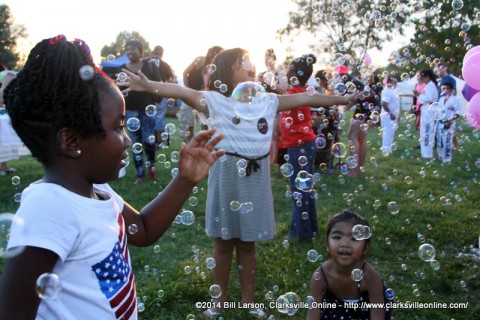 "It feels wonderful to be here today," said Clarksville Mayor Kim McMillan when I spoke with her early in the afternoon. "I would be down here anyway regardless of the fact that it's an election year. Being an election year just gives me another reason to come and enjoy this wonderful festival that the we put on every year for the people in Clarksville, and the surrounding areas."
She continued, "I think the crowd here is tremendous! We have been very fortunate that we have not had any rain. We're hoping for no rain tomorrow as well. I think it's going to be great! This is such a wonderful opportunity for people to come down and listen to a lot of great music, enjoy wonderful food, and best of all it's all for free!"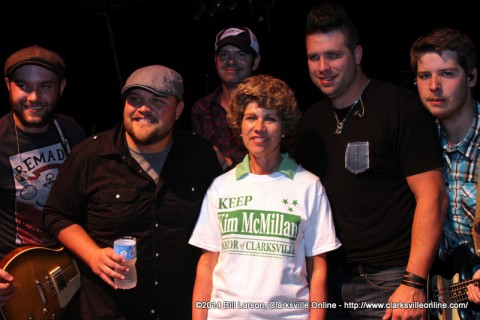 I headed down to the family fun zone to get some pictures of the activity there, running into many friends and even family along the way.
When I arrived, people were having a blast! Little girls posed for pictures with Cinderella, Snow White, Jasmine, and Rapunzel. . A father came down an inflatable slide holding is young daughter on his lap. A dad made four consecutive hits on the high striker to win his daughter and son prizes. A young man and his wife raced model cars around a track. The petting zoo and pony rides were running nonstop.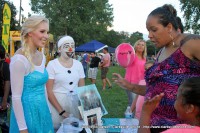 Tiffany's Spa was on hand providing the kids a bubble machine. There I found Miss Tennessee Jordan Davis dressed as Elsa from the Disney animated feature Frozen. She took a moment to speak with Clarksville Online.
"Riverfest is amazing, and we've had such a great turnout this year," said Davis. "Today we're dressed up as Disney princesses, I'm Elsa. We also have Cinderella, Belle, and Anna. It's been really fun for us, and the kids are really enjoying as well!"
On my way back to check out the action on the main stages I ran into Mayoral Candidate Jeff Burkart.
"It feels great to be here today!" said Clarksville Mayoral candidate Jeff Burkart. "It's a little hot, but outside of that it's great! Just hoping that the rain holds off, everyone has a great time, and keeps safe. That's the main thing. We get out of here with no major damage."
He continued, "The reception from the people at Riverfest has been great. The crowds little thin right now because people are just now getting off work so we expected to pick up about 7:00pm."
Burkhart joked, "I know Rossview and Clarksville High are playing football tonight, that's probably got some of the crowd. So maybe if we don't get them tonight will get them tomorrow!"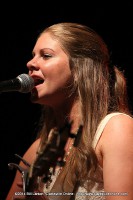 Singer-songwriter Lydia Walker was on the First Baptist Church Stage as I came back through. She was entertaining a huge crowd who were singing and dancing along to the music. After she finished performing she took a minute to speak with Clarksville Online. I asked her how it felt to be performing at Riverfest, she responded, "I was so excited and nervous, and I think it was a mixture of the two that I felt as we got on stage. I was honored to be on stage were so many great people tonight. I am thankful for the opportunity! This is one of Clarksville's biggest festivals and so just to be a part of it is exciting and nerve-racking at the same time."
She continued, "We sang about half original songs, and half cover songs that people would recognize and be able to sing along to. We love seeing people sing along with us, and really get into the music. They were waving their hands, and jumping up and down, at points they were clapping along with the music. That's the whole point of what we do is to establish a connection with people through our music."
I asked her how things were going and she responded, "We have been super busy this summer and it shows no sign of slowing down. I have been playing a lot of places of the Clarksville area and branching out from there going to different states and singing at churches, festivals, and coffee shops. I am just trying to go to wherever people ask me to come."
She wanted to thank her amazing fans, "It's exciting to have such a great local following here in Clarksville, not a lot of people get that so we're very thankful for that."
I asked her what was next for her, "We do a monthly music night at Chick-fil-A on Madison Street. So that will be this coming Monday and that's from 5:00pm-7:00pm. We do that every second Monday of the month. That's a great time for us to get families together, eat dinner together, and listen to live music. That is one of our favorite things to do!"
She continued, "I also do the Downtown Market every month. And so I will be there on September 20th from 9:00am to 11:00am. That will be one of the last markets of this season. They shut down in October."
If you would like to sample Lydia's music she has videos on YouTube, music on iTunes and Spotify,. "You can find links on my website lydiawalker.com."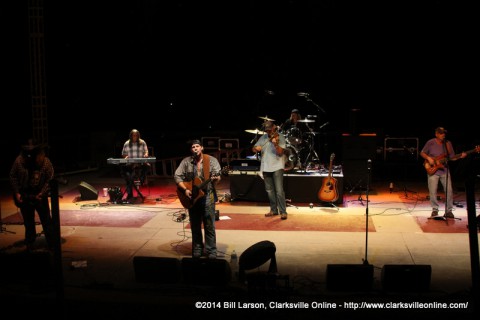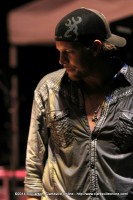 The Jon Royce Band was up next on the Miller light stage, and their performance was everything I expected it to be. The crowd loved the band, they got into the music, and I have no doubt that they made a few new fans with that performance.
I spoke with Jon Royce of the Jon Royce Band shortly after they had their performance as headliners for the opening night of Riverfest. "It's a wonderful experience! The crowds energy was so high. The crowd wasn't exactly what we expected, but there was still a lot of people who came out. We saw a lot of John Royce band T-shirts out there in the crowd. They were very very receptive. We had a really good show! I just love performing for the public, music is my life. We had a wonderful time, and I wouldn't have traded it for nothing!"
The Riverfest festival continues tomorrow morning starting at 10:00am. We hope to see you there!
Photo Gallery