Clarksville, TN – The City of Clarksville's Parks and Recreation Department, Alicia's Complete Holistic Petcare, and Gateway Realty/A+ Property Management introduced Fun with Fido, a new, event series to promote an active lifestyle for you and your four-legged family member in June.
The series will continue its season Saturday, September 20th at the Clarksville Downtown Market from 8:00am to 1:00pm on Public Square. Bring Fido for a day of shopping, crafts, give-a-ways, and more!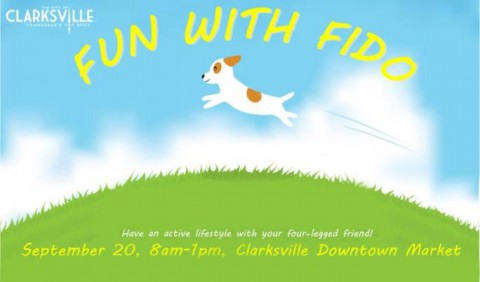 Businesses that promote dog-related programs, services and products are encouraged to participate as a vendor.
If interested, business can apply by visiting the Clarksville Parks and Recreation Office at 102 Public Square or going online here to download an application form. Applications must be received by September 17th, 2014.
Don't forget to make plans to join us for the final 'Fun with Fido' event of the 2014 season at King's Run Bark Park at Liberty Park on October 11th, 2014.
Special thanks to our sponsors: Alicia's Complete Holistic Petcare, Gateway Realty/A+ Property Management and the Leaf Chronicle.
For more details on Fun with Fido, please contact the Clarksville Parks and Recreation at 931.645.7476 or visit www.cityofclarksville.com/funwithfido