Tennessee Titans (1-1) at Cincinnati Bengals (2-0)
Sunday, September 21st, 2014 | 1:00pm EDT/Noon CDT
Cincinnati, OH | Paul Brown Stadium (65,515) | TV: CBS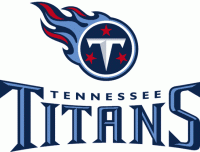 Nashville, TN – The Tennessee Titans (1-1) travel to Cincinnati in Week 3 to face the defending AFC North Champion Bengals (2-0). Kickoff at Paul Brown Stadium (capacity 65,515) is scheduled for 1:00pm EDT/noon CDT on Sunday, September 21st.
The Bengals are one of the Titans' longest-standing rivals. In 72 regular-season meetings between the former AFL (1968–69) and AFC Central (1970–2001) combatants, the Titans hold a 39-32-1 advantage.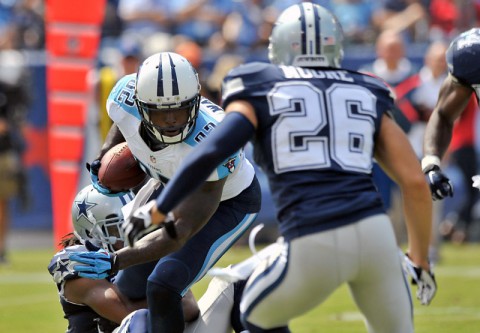 This week's game will be televised regionally on CBS, including Nashville affiliate WTVF NewsChannel 5. Brad Johansen will handle play-by-play duties, and Chris Simms will serve as analyst.
The Titans Radio Network, including Nashville flagship 104.5 The Zone, will broadcast the game across the Mid-South with the "Voice of the Titans" Mike Keith, analyst Frank Wycheck, gameday host Rhett Bryan and sideline reporter Jonathan Hutton.
Additionally, Sports USA will broadcast the game to a national radio audience. Adam Amin (play-by-play), John Robinson (analyst) and Drew Deener (sideline reporter) will have the call.
Tennessee Titans Last Week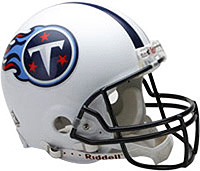 In their home opener at LP Field last week, the Titans fell behind early to the Dallas Cowboys and ultimately lost by a final score of 26-10.
Although the Titans got a career day from tight end Delanie Walker, they were unable to keep pace with their opponent's output. Dallas rushed for 220 yards, including 167 yards by DeMarco Murray (one touchdown), and receiver Dez Bryant totaled 103 yards and a touchdown on 10 catches. The Cowboys possessed the football for more than 41 out of the game's 60 minutes.
Walker caught 10 passes for 142 yards, including a 61-yard touchdown. He eclipsed the 100-yard mark for the first time in his nine-year career, and his yardage total qualified as the third highest single-game mark in franchise history by a tight end. The only Oilers/Titans tight ends with more receiving yards in a game are Jared Cook (169 against Jacksonville on December 24th, 2011) and Dave Casper (150 vs. Cleveland on Nov. 30, 1980).
Despite Dallas' success on offense, the Titans defense succeeded in getting to Tony Romo to record four sacks for the second consecutive week. Defensive tackle Jurrell Casey tied his career high with two sacks in the contest. The eight total sacks are the most by the Titans defense in the season's first two weeks since 2010.
Cincinnati Bengals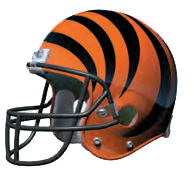 The Bengals are led by the winningest coach in franchise history, Marvin Lewis, who took the reigns in Cincinnati in 2003.
Prior to then, he and Titans head coach Ken Whisenhunt crossed paths at a previous stop. Lewis was an assistant with the Baltimore Ravens in the late 1990s when Whisenhunt got his first NFL coaching job as the tight ends coach for the Ravens (1997–98).
Lewis' squad was crowned division champions last season with an 11-5 record, earning a playoff berth for the third consecutive year and for the fourth time in a five-year span. The 2013 squad finished in the NFL's top 10 in scoring (tied for sixth), scoring defense (tied for fifth), net offense (10th) and net defense (third).
At home last week, the 2014 Bengals took over sole possession of first place in their division with a convincing 24-10 victory over the Atlanta Falcons. In the win, the Bengals totaled 472 yards of offense, including 302 passing yards and 170 yards on the ground.
Second-year running back Giovani Bernard accounted for more than a third of the yardage, rushing for 90 yards on 27 carries (one touchdown) and collecting five receptions for 79 yards. Quarterback Andy Dalton was an efficient 15-of-23 for 252 yards with a touchdown and a passer rating of 116.6.
Titans-Bengals Series at a Glance
Overall series (regular & postseason): Titans lead 39-33-1
Regular season series: Titans lead 39-32-1
Postseason series: Bengals lead 1-0
Total points: Titans 1,694, Bengals 1,701
Current streak: One win by Bengals
Titans at home vs. Bengals: 22-13-1
Titans on road vs. Bengals: 17-20 (including 0-1 in playoffs)
Longest winning streak by Titans: 7 (twice, last 1998-01)
Longest losing streak by Titans: 7 (1981-84)
Titans vs. Bengals at LP Field: 3-3
Last time at LP Field: BENGALS 24 at Titans 17 (11/6/11)
Titans vs. Bengals at Paul Brown Stadium: 4-1
Last time at Paul Brown Stadium: TITANS 24 at Bengals 7 (9/14/08)
First time: OILERS 27 at Bengals 17 (11/3/68)
Ken Whisenhunt's record vs. Bengals: 1-1
Marvin Lewis' record vs. Titans: 3-2
Ken Whisenhunt's record vs. Marvin Lewis: 1-1
What To Look For This Week
S Michael Griffin (23 career interceptions) needs one interception to tie Zeke Moore for ninth place on the franchise career interceptions list.
QB Jake Locker (4,474 career passing yards) needs 86 passing yards to pass Chris Chandler (4,559) for 10th place on the franchise's top 10 passing yards list.
LT Michael Roos  (145 career games) can tie Ted Thompson for 12th place on the franchise's all-time games played list.
TE Delanie Walker (196 career receptions) needs four receptions to reach 200 for his career.
KR Leon Washington needs one kickoff return for a touchdown to become the NFL's all-time leader (currently tied with Josh Cribbs for first in NFL history with eight).
WR Nate Washington (272 receptions with the Titans) needs one reception to pass Chris Johnson (272) for 10th on the team's alltime list, and Washington needs two receptions to pass Drew Bennett (273) for ninth place.
WR Nate Washington (4,004 receiving yards with the Titans) needs 30 more receiving yards to surpass Drew Bennett's total (4,033) for eighth place in franchise history.
Titans-Bengals Series History
In the 55-year history of the organization, only one other NFL team—the Pittsburgh Steelers—has faced the Titans/Oilers more frequently than the Cincinnati Bengals. There have been 73 all-time meetings with the Bengals, while the Steelers have squared off 76 times against the Titans/Oilers.
The Bengals began play in 1968 as an expansion franchise in the American Football League and that season played the then-Oilers for the first time, a 27-17 Houston win at Cincinnati's Nippert Stadium.
In 1970, Riverfront Stadium (later named Cinergy Field) opened, where the Bengals would call home through the 1999 season. The start of the 1970 season also marked the beginning of the newly-formed AFC Central Division, giving new life to the Bengals and Oilers rivalry.
The two teams met at least twice per season each year from 1970–2001, until realignment split up the division in 2002. The Titans moved to the AFC South, while the Bengals were placed in the AFC North.
During their time as division rivals, the Oilers and Bengals met only once in the playoffs. In 1990, the Wild Card Oilers traveled to face the AFC Central Champion Bengals and were defeated 41-14.
They have played six times since moving to different divisions, splitting the games at three apiece. After wins by Tennessee in 2002 and 2004, the Bengals won two in a row (2005 and 2007). The Titans went to Cincinnati in Week 2 of the 2008 season and came back with a 24-7 win. Most recently, the Bengals escaped from Nashville with a 24-17 win on November 6th, 2011.
The Titans have won the majority of their games with the Bengals since moving to Tennessee.
They are 11-5 in that time period (1997-present), including a seven-game winning streak from 1998-01. The streak included five consecutive road victories for the Titans, three of which occured at Paul Brown Stadium.
On September 12th, 1999, the Bengals helped the Titans open their new home in the first regular season game at LP Field. The Titans won dramatically 36-35 on a last-second field goal.
Titans-Bengals: The Last Meetings
Cincinnati Bengals 24 at Tennessee Titans 17
Sunday, November 6th, 2011
LP Field, Nashville, TN
| | | | | | |
| --- | --- | --- | --- | --- | --- |
| | 1 | 2 | 3 | 4 | Final |
| Cincinnati Bengals | 0 | 7 | 7 | 10 | 24 |
| Tennessee Titans | 3 | 14 | 0 | 0 | 17 |
In Week 9 of the 2011 season, the Titans were held scoreless in the second half, while Cincinnati rookies Andy Dalton and A.J. Green made plays at critical moments to help clinch a 24-17 Bengals victory at LP Field.
Dalton completed 22 of 39 passes for 217 yards, three touchdowns and no interceptions (97.9 passer rating), while Titans quarterback Matt Hasselbeck was 24-of-41 for 272 yards and two touchdowns without an interception (94.8 rating).
But it was Dalton and the Bengals offense who took charge in the second half, scoring 17 unanswered points after the Titans took a 17-7 lead into halftime. The Bengals defense limited the Titans to 95 total yards in the second half after surrendering 233 yards in the first half.
The Bengals took a 21-17 lead with 10:52 to play in the fourth quarter after a 13-play, 75-yard series. Green recorded a 23-yard catch early in the drive, and later, on third-and-18, he snared a 20-yard pass from Dalton, one of eight third-down conversions on 16 attempts for Cincinnati. Green finished the game with a team-high seven receptions for 83 yards.
Then, on third-and-goal from the five-yard line, Dalton capped the drive with a touchdown pass to wide receiver Andre Caldwell.
The Titans had four more possessions to attempt to either take the lead or tie the game, but were unable to sustain any of the drives. With the Titans still trailing by four points, tight end Jared Cook was stripped of the ball by Bengals cornerback Nate Clements at the Tennessee 20-yard line. That led to the final score of the game, a 36-yard field goal by Mike Nugent at the two-minute warning.
Earlier in the game, the Titans took a 3-0 lead midway through the first quarter. A 20-yard run and 21-yard reception by running back Chris Johnson helped set up Rob Bironas' 43-yard field goal.
Tennessee's lead held until the second quarter, when Dalton completed a one-yard touchdown pass to tight end Colin Cochart. It capped a 11-play, 68-yard drive.
The Titans responded with a long scoring drive of their own, marching 78 yards on nine plays. Not long after Johnson recorded an 18-yard run, tight end Craig Stevens posted a 25-yard reception. Then, facing a fourth-and-three at the Bengals' 10-yard line, the Titans converted on a five-yard pass from Hasselbeck to Hawkins. Hasselbeck subsequently completed an eight-yard touchdown pass to Damian Williams for a 10-7 lead.
The Titans got the ball back at their own 19-yard line with 2:55 remaining in the first half.
After a pair of third-down conversions, the Titans drove to the Cincinnati 16-yard line with no timeouts remaining. That is when Hasselbeck found Hawkins in the back of the end zone for a touchdown with eight seconds remaining in the half. But it would be their final score of the game.
In the second half, a 45-yard pass interference penalty was called on Titans cornerback Jason McCourty while defending wide receiver Green. Dalton delivered a 15-yard touchdown pass to wide receiver Jerome Simpson three plays later, and Cincinnati took the lead with Caldwell's touchdown reception on their following series.