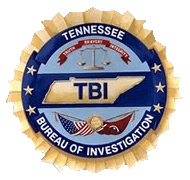 Nashville, TN – Agents from the Tennessee Bureau of Investigation have obtained indictments for a Rutherford County man accused of pointing a weapon at two Sheriff's deputies.
At the request of then-16th District Attorney General Bill Whitesell, TBI Special Agents began investigating the May 6th officer-involved shooting of Jeffery T. Newton. Earlier that day, Newton's wife placed a 911 call, stating her husband had a gun and threatened to take his life in the woods behind their Murfreesboro home.
While two responding Rutherford County deputies were looking for Newton, he emerged from the woods carrying a shotgun. Deputies ordered Newton to put down the weapon, but he did not comply, and instead pointed the weapon at deputies.
One of the deputies fired his service weapon, hitting Newton in the abdomen. He was taken to Vanderbilt University Medical Center for treatment.
On August 6th, the Rutherford County Grand Jury returned indictments for the 39-year-old, charging him with two counts of Aggravated Assault. Last night, following his release from the hospital, Newton was booked into the Rutherford County Adult Detention Center, where at the time of this release, he was being held on $50,000 bond.