APSU Sports Information Office

Clarksville, TN – A trio of 77s could not help Austin Peay State University women's golf team move up on the team leaderboard and it settled for a fourth-place finish in the 2014 F&M Bank APSU Intercollegiate, Tuesday, at a wind-swept Clarksville Country Club.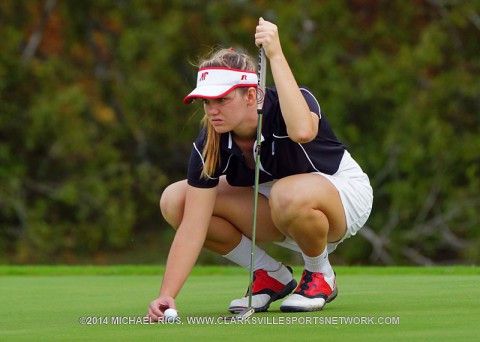 Austin Peay recorded a second-straight 311, finishing with a two-day 622.
The Lady Govs finished behind team champion Belmont (596), Murray State (603) and Tennessee Tech (605) in the team race.
Junior Jessica Cathey, sophomore Morgan Kauffman and senior Meghan Mueller each shot a 77 in Tuesday's second round, an improvement on their first-round results despite the windy conditions. Sophomore Amber Bosworth added an 80 to the Lady Govs team score while freshman AnnaMichelle Moore chipped in an 83.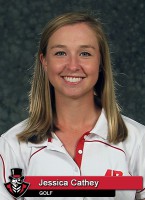 "I thought some of the girls handled the wind a lot better than others," said Lady Govs head coach Sara Robson. "We had some girls playing super well but had a whole lot of putts. When you hit greens and fairways you're typically going to play pretty well, but when you have a lot of putts it isn't going to help you out."
Bosworth finished tied for ninth in the tournament with a 10-over, 153 two-round total. Cathey finished tied for 13th with a 12-over 155 while Kauffman was tied for 16th at a 13-over 156. Mueller finished tied for 36th overall with a 163 while Moore was tied for 38th with a 164.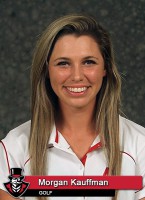 "Amber had a great tournament," said Robson. "She struggled for about six holes in a row today and then got it back. She was playing well, kind of lost focus for a bit and it took her a while to grind it out."
"We've got to spend the next few days on the range and on the putting green," Robson said. "We have to get our irons on the green. If we keep working on those things and we'll get better."
Sophomore Kelsey Schutt led a group of four Lady Govs individuals competing in the tournament, finishing tied for 16th with a 13-over 156. Sophomore Morgan Gardner had a team-best 74 Tuesday and finished the tournament with a 157 good for 21st. Freshman Anna Pope (t-36th, 163) and freshman Sara Beth Struble (t-43rd, 166) rounded out the Lady Govs effort.
"These kids are really competitive," Robson said. "Every time they tee it up they're teeing it up for a spot on the team. Morgan played phenomenal; I am so proud of her, she doesn't hit it a long way but she hits it straight and that's what you had to do today. Kelsey had another solid round and was consistent this tournament, which is what I've been needing from her."
Austin Peay continues its rapid-fire stretch of three tournaments in three weeks when it competes in the Blue Raider Invitational, Monday-Tuesday, at Old Fort Golf Course in Murfreesboro, TN.