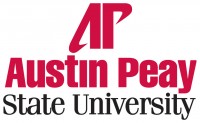 Clarksville, TN – In L. Frank Baum's hometown of Chittenango, New York, the brick sidewalks are painted yellow and the shops have names like "Auntie Em's Place" and the "Emerald City Grill."
This little village doesn't really resemble the magical Oz, but it is part of the ongoing reinterpretation of Baum's famous children's story, "The Wonderful Wizard of Oz."
That famous work has been re-imagined numerous times over the years, with the famous 1939 musical, "The Wizard of Oz," the 1978 Michael Jackson fantasy, "The Wiz," and Gregory Maguire's bestselling book, later made into a hit Broadway musical, "Wicked."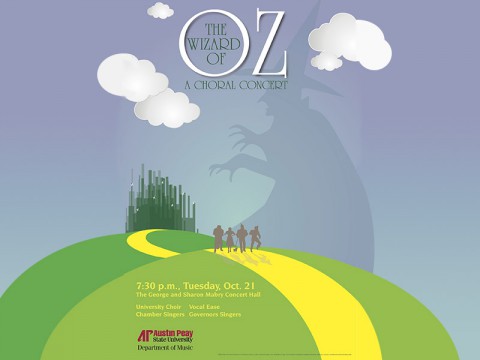 At 7:30pm on October 21st, the Austin Peay State University Choral Activities Program will expand upon this tradition of reinterpretation with its concert "The Wizard of Oz," in the Mabry Concert Hall.
The concert is free and open to the public.
"In the same way as there are changes in the story from the original to the movie to the other spinoffs, we're going to add to that," Dr. Korre Foster, director of choral activities at APSU, said.
In Baum's original story, Auntie Em's farm has only a few animals. A musical adaptation of the book, produced for the stage a few years later, included a talking cow on the farm. The 1939 movie featured several barnyard animals, including the famous scene where Dorothy falls into a pen full of pigs.
"At the very beginning, we're doing an Eric Whitacre song called 'The Panther,'" Foster said. "We're going to tell the audience there was a panther on the farm, they just didn't see it."
The evening will also feature a performance of Pink Floyd's "Money," in reference to Dorothy's silver slippers in Baum's book and her ruby slippers in the movie. The University's Chamber Singers will sing a piece called "Double, Double, Toil and Trouble," referencing the witches from Shakespeare's "Macbeth." The song puts Baum's Wicked Witch of the West in a historical context, linking her with other witches in western literature.
The evening will include songs from the movie, such as "Over the Rainbow" and "Munchkin Land," as well as "Home" from "The Wiz."
"It's an innovative approach to programming a choral concert, as it allows us to continue to expand on the wealth of history we already have with the 'Wizard of Oz,'" Foster said.
The audience will also be treated to a bit of history that evening, regarding Baum and his works. Dr. Kevin Tanner, APSU associate professor of history, will introduce several pieces and speak about his research into the subject.
Tanner, interestingly enough, grew up in Baum's hometown of Chittenango, where he met some of the actors who played munchkins in the 1939 film. He has published scholarly articles on Baum's books, arguing for new interpretations.
In his article "Spiritualism and 'The Wonderful Wizard of Oz,'" Tanner explains that many critics see the book as "a populist allegory that could help explain monetary issues of the 1890s or a subversive text that advocates consumer capitalism." Tanner, however, sees the book differently.
"If read as a religious allegory," he writes, "Baum's fairy tale reveals the conflict in American religion at the turn of the twentieth century and remains a subversive religious populist text that advocates spiritual consumerism."
For more information on the upcoming choral concert, contact Foster at .