Austin Peay Sports Information

Clarksville, TN – Four players recorded double-digit kill totals but it was enough as Austin Peay State University's volleyball team fell in four sets (23-25, 23-25, 25-18, 18-25) to SIU Edwardsville, Saturday, in Ohio Valley Conference action at the Dunn Center.
Senior
Hillary Plybon
led Austin Peay with 14 kills in her first start since September 26th, finishing with a .480 attack percentage while also adding four blocks.
Freshman Christina White added 12 kills, junior Aubrey Marsellis chipped in 11 kills and junior Sammie Ebright had 10 kills in the loss.
However, Austin Peay had few answers for an SIUE offense that saw nine different players record a kill. Ashley Witt led the effort with 13 kills and a .440 attack percentage off the bench. Starters Kristen Torre (12 kills) and Taylor Held (10 kills) also reached double-digit kill territory.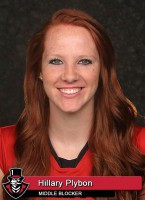 Austin Peay (11-15, 5-5 OVC) started out with a 4-2 lead in the first set, but saw SIUE rally with four straight points to take a 6-4 lead.
The Cougars would use a 6-2 run later in the set to build a 13-9 advantage. Austin Peay would get within a point several times down the stretch, including a kill by Ashley Slay to deny the first set point. However, an Austin Peay attack error on the next point gave SIUE a 25-23 win.
The second set was much closer with 12 ties and six lead changes with neither team enjoying more than a three point lead during the frame. SIUE (10-16, 2-8 OVC) claimed the set with back-to-back kills, first by Emily Harrison then by Mallory Mangun to claim the set, 25-23.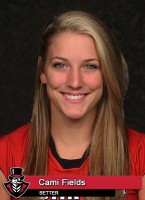 Austin Peay's offense hit its stride in the third set with an impressive 17-kill effort at a .536 attack percentage. Marsellis led the frame with seven kills as head coach Taylor Mott inserted senior setter Cami Fields and moved Marsellis to outside hitter at times during the set.
Austin Peay took control of the frame with a 5-0 run on Fields' serve to turn a 14-13 deficit into an 18-14 lead it would not relinquish. A final 5-1 run sealed the 25-18 victory.
SIUE took control of the fourth set with an early 7-1 run to build a 10-5 lead. The Cougars would maintain that lead until a 8-1 run late in the frame boosted their advantage to eight points, 24-16. Austin Peay fended off a pair of set points thanks to kills by redshirt freshman Peyton Walker and Plybon, but SIUE's Ashley Witt finally put down a kill to end the match.
Austin Peay finished with 59 kills and a .273 attack percentage that was helped by the third set effort and a 15-kill, .375 attack percentage in the second set. The Lady Govs defense recorded 64 digs, including 19 by sophomore Lizzy Bales.
SIUE had a consistent offensive outing with 53 kills and a .239 attack percentage. The Cougars hit over .200 in each of the three sets it won while holding the Lady Govs below .200 in the first and fourth frames.
Austin Peay continues it four-match homestand with a 6:00pm, Friday OVC contest against Tennessee Tech.
Box Score
SIUE 3 vs Austin Peay 1
| Set Scores | | 1 | 2 | 3 | 4 | Team Records |
| --- | --- | --- | --- | --- | --- | --- |
| Austin Peay | (1) | 23 | 23 | 25 | 18 | 11-15, 5-5 OVC |
| SIU Edwardsville | (3) | 25 | 25 | 18 | 25 | 10-16, 2-8 OVC |
SIUE (10-16, 2-8 OVC)
| ## | Player | SP | K | E | TA | PCT | A | E | SA | SE | RE | DIG | BS | BA | Points |
| --- | --- | --- | --- | --- | --- | --- | --- | --- | --- | --- | --- | --- | --- | --- | --- |
| 2 | JOENS, Taylor | 4 | 8 | 7 | 31 | .032 | 0 | 0 | 0 | 0 | 0 | 4 | 0 | 0 | 8.0 |
| 5 | RAMICH, Carley | 4 | 1 | 1 | 5 | .000 | 0 | 0 | 0 | 0 | 0 | 0 | 0 | 2 | 2.0 |
| 7 | NORRIS, Haley | 4 | 0 | 0 | 1 | .000 | 3 | 0 | 0 | 0 | 0 | 8 | 0 | 0 | 0.0 |
| 11 | HELD, Taylor | 4 | 10 | 4 | 24 | .250 | 0 | 0 | 0 | 1 | 4 | 10 | 0 | 1 | 10.5 |
| 15 | TORRE, Kristen | 4 | 12 | 2 | 27 | .370 | 0 | 0 | 3 | 1 | 0 | 3 | 2 | 0 | 17.0 |
| 19 | MANGUN, Mallory | 4 | 2 | 0 | 3 | .667 | 28 | 0 | 1 | 2 | 0 | 13 | 0 | 0 | 3.0 |
| 4 | STREETAR, Alicia | 2 | 2 | 0 | 9 | .222 | 0 | 0 | 0 | 0 | 0 | 0 | 0 | 0 | 2.0 |
| 8 | COLCLASURE, Chelsea | 4 | 0 | 0 | 3 | .000 | 2 | 0 | 2 | 0 | 1 | 11 | 0 | 0 | 2.0 |
| 14 | HARRISON, Emily | 3 | 4 | 3 | 13 | .077 | 0 | 0 | 0 | 0 | 0 | 1 | 0 | 0 | 4.0 |
| 16 | WITT, Ashley | 4 | 13 | 2 | 25 | .440 | 0 | 0 | 0 | 0 | 0 | 0 | 0 | 1 | 13.5 |
| 18 | O'REILLY, Kaitlyn | 4 | 1 | 0 | 1 | 1.000 | 16 | 0 | 0 | 1 | 0 | 8 | 0 | 0 | 1.0 |
| | Totals | 41 | 53 | 19 | 142 | .239 | 49 | 0 | 6 | 5 | 5 | 58 | 2 | 4 | 63.0 |
Team Attack By Set
Set
K
E
TA
Pct
1
14
3
41
.268
2
17
5
34
.353
3
10
6
33
.121
4
12
5
34
.206
Total Team Blocks: 4.0
LEADERS:
Kills-Aces-Blocks:WITT, Ashley (13-0-1); TORRE, Kristen (12-3-2); HELD, Taylor (10-0-1); JOENS, Taylor (8-0-0); HARRISON, Emily (4-0-0); MANGUN, Mallory (2-1-0); STREETAR, Alicia (2-0-0); RAMICH, Carley (1-0-2); O'REILLY, Kaitlyn (1-0-0)Assists: MANGUN, Mallory (28); O'REILLY, Kaitlyn (16); NORRIS, Haley (3); COLCLASURE, Chelsea (2)Digs: MANGUN, Mallory (13); COLCLASURE, Chelsea (11); HELD, Taylor (10); NORRIS, Haley (8); O'REILLY, Kaitlyn (8); JOENS, Taylor (4); TORRE, Kristen (3); HARRISON, Emily (1)
Austin Peay (11-15, 5-5 OVC)
| ## | Player | SP | K | E | TA | PCT | A | E | SA | SE | RE | DIG | BS | BA | Points |
| --- | --- | --- | --- | --- | --- | --- | --- | --- | --- | --- | --- | --- | --- | --- | --- |
| 3 | ADAMS, April | 4 | 0 | 0 | 0 | .000 | 0 | 0 | 1 | 1 | 0 | 7 | 0 | 0 | 1.0 |
| 4 | EBRIGHT, Sammie | 4 | 10 | 4 | 33 | .182 | 0 | 0 | 1 | 0 | 0 | 4 | 0 | 0 | 11.0 |
| 6 | SLAY, Ashley | 2 | 7 | 3 | 13 | .308 | 0 | 0 | 0 | 1 | 0 | 1 | 0 | 0 | 7.0 |
| 7 | MARSELLIS, Aubrey | 4 | 11 | 2 | 20 | .450 | 33 | 0 | 1 | 1 | 1 | 11 | 0 | 1 | 12.5 |
| 11 | WHITE, Christina | 4 | 12 | 6 | 28 | .214 | 2 | 0 | 0 | 2 | 3 | 13 | 0 | 0 | 12.0 |
| 15 | PLYBON, Hillary | 4 | 14 | 2 | 25 | .480 | 0 | 0 | 0 | 1 | 0 | 3 | 1 | 3 | 16.5 |
| 1 | FIELDS, Cami | 4 | 0 | 0 | 0 | .000 | 19 | 0 | 1 | 0 | 0 | 2 | 0 | 0 | 1.0 |
| 5 | BALES, Lizzy | 4 | 0 | 0 | 1 | .000 | 0 | 0 | 1 | 1 | 1 | 19 | 0 | 0 | 1.0 |
| 9 | WALKER, Peyton | 4 | 5 | 3 | 21 | .095 | 1 | 0 | 0 | 0 | 1 | 3 | 0 | 3 | 6.5 |
| 10 | STROTHER, Samantha | 1 | 0 | 0 | 0 | .000 | 0 | 0 | 0 | 0 | 0 | 0 | 0 | 0 | 0.0 |
| 17 | FERGUSON, Kelly | 2 | 0 | 0 | 2 | .000 | 1 | 0 | 0 | 0 | 0 | 1 | 0 | 1 | 0.5 |
| | Totals | 37 | 59 | 20 | 143 | .273 | 56 | 0 | 5 | 7 | 6 | 64 | 1 | 8 | 69.0 |
Team Attack By Set
Set
K
E
TA
Pct
1
17
9
50
.160
2
15
3
32
.375
3
17
2
28
.536
4
10
6
33
.121
Total Team Blocks: 5.0
LEADERS:
Kills-Aces-Blocks:PLYBON, Hillary (14-0-4); WHITE, Christina (12-0-0); MARSELLIS, Aubrey (11-1-1); EBRIGHT, Sammie (10-1-0); SLAY, Ashley (7-0-0); WALKER, Peyton (5-0-3)Assists: MARSELLIS, Aubrey (33); FIELDS, Cami (19); WHITE, Christina (2); WALKER, Peyton (1); FERGUSON, Kelly (1)Digs: BALES, Lizzy (19); WHITE, Christina (13); MARSELLIS, Aubrey (11); ADAMS, April (7); EBRIGHT, Sammie (4); PLYBON, Hillary (3); WALKER, Peyton (3); FIELDS, Cami (2); SLAY, Ashley (1); FERGUSON, Kelly (1)