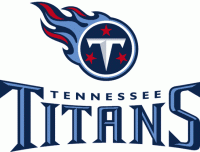 Nashville, TN – The Houston Texans (4-4) beat the Tennessee Titans (2-6) Sunday at LP Field 30-16. Texans' running back Arian Foster rolled over the Titan's defense for 154 yards rushing, two touchdowns on the ground and another through the air.
In his first start, Tennessee quarterback Zach Mettenberger passed for 299 yards and two touchdowns on 27 of 41 attempts. He also had two turnovers, an interception and a fumble.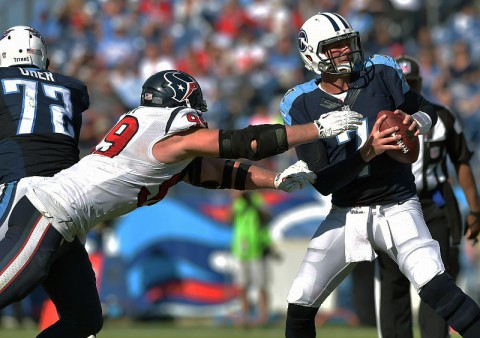 "I thought he handled things well from a standpoint being able to run the huddle, get out of the huddle. We weren't close to getting any delay penalties which is one of the things you look at," Titans head coach Ken Whisenhunt stated.
Untimely pentalties again haunted Tennessee. They were flagged six times for 61 yards.
When asked about the penalties, Whisenhunt said, "We just keep working on it, talking about it. I mean, you know we get a hands to the face, where the hand slides up to the helmet. We get a holding penalty with a tight end that has been with us for three days. I mean everybody is contributing to it. We got to keep working on it. Hopefully, we will be able to establish a little more consistency and cut that out."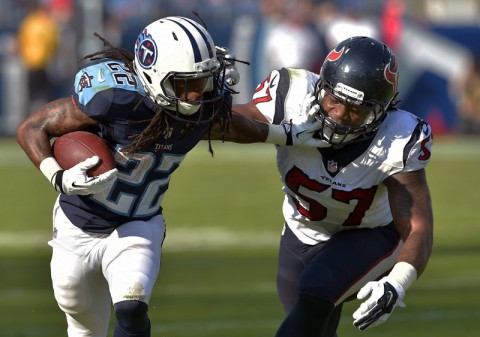 Mettenberger seemed to settle down in the second half of the game and started to move the offensive down the field. He threw a 12 yard touchdown pass to Justin Hunter and a 6 yard one to Delanie Walker. He also connected with Kendall Wright for a 48 yard pass and Nate Washington on a 43 yard completion.
"He made those throws in the second half," said Whisenhunt. "So, I thought he did a nice job in the second half whether they were playing soft or not, he still made some throws and obviously being able to move the ball was concurrent."
The Titans were unable to get a running game going. Bishop Sankey had 35 yards on 9 carries. Tennessee wide receiver Nate Washington had 4 receptions for 68 yards. Kendall Wright pulled in 3 balls for 53 yards.
"You know, obviously, we did a lot of good things. I think we've got the right group of guys to accomplish what we want to accomplish. As you see, when we shoot ourselves in the foot early on in the first half it's tough to sustain drives," said Zach Mettenberger. "In the second half, we did a better job of that and we were able to move the ball, move the chains, and get the touchdown. The only thing we can do is keep working, and get healthy on this bye week and get ready for Baltimore."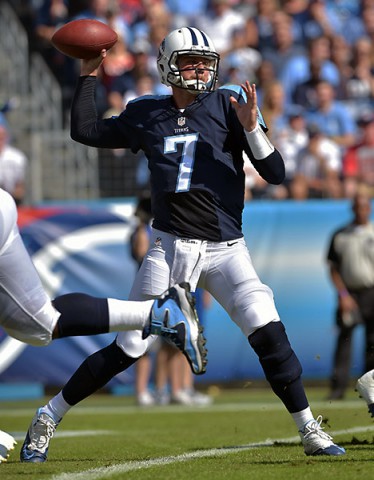 For Houston, Ryan Fitzpatrick completed 19 of 35 pass attempts for 227 yards and a touchdown. DeAndre Hopkins caught 5 balls for 95 yards, while Andre Johnson had 7 for 55 yards.
"Obviously very disappointed with how it went today. I thought we started the game out just the way you wanted to. Our defense did a good job getting off the field," stated Whisenhunt.
"We had a good punt return by Dexter (McCluster) which was nice to see which put us down there in the red zone. I was probably a little too conservative with the two runs that first time and then putting him in a third down, but we got three points out of it," stated Whisenhunt. "Then obviously, we didn't do very well offensively from that point on, especially the first half with the penalties. We got behind the sticks every drive, the next three consecutive drives and we couldn't overcome that."
The Tennessee Titans are on their bye next week. The Titans are back in action Sunday, November 9th as they pay a visit to the Baltimore Ravens. Kick off is at 12:00pm CDT.
Box Score
Houston Texans 30, Tennessee Titans 16
| | | | | | |
| --- | --- | --- | --- | --- | --- |
| | 1 | 2 | 3 | 4 | Final |
| Houston Texans | 0 | 13 | 14 | 3 | 30 |
| Tennessee Titans | 3 | 0 | 6 | 7 | 16 |
Houston Texans

Passing
CP/AT
YDS
TD
INT
R. Fitzpatrick
19/35
227
1
0
Rushing
ATT
YDS
TD
LG
A. Foster
20
151
2
43
A. Blue
14
42
0
9
R. Fitzpatrick
4
12
0
12
J. Grimes
2
7
0
5
Receiving
REC
YDS
TD
LG
D. Hopkins
5
95
0
23
A. Johnson
7
55
0
13
D. Johnson
2
33
0
18
A. Blue
1
22
0
22
A. Foster
4
22
1
13
Fumbles
FUM
LOST
REC
YDS
T. Jamison
0
0
1
0
J. Watt
0
0
0
0
Kicking
FG
LG
XP
PTS
R. Bullock
3/3
49
3/3
12
Punting
NO
AVG
I20
LG
S. Lechler
6
35.3
4
56
Punt Returns
NO
AVG
TD
LG
K. Martin
2
9
0
10
Tennessee Titans

Passing
CP/AT
YDS
TD
INT
Z. Mettenberger
27/41
299
2
1
Rushing
ATT
YDS
TD
LG
B. Sankey
9
35
0
9
S. Greene
1
1
0
1
D. McCluster
2
1
0
2
L. Washington
0
0
0
0
Z. Mettenberger
1
-1
0
-1
Receiving
REC
YDS
TD
LG
N. Washington
4
68
0
43
K. Wright
3
53
0
48
L. Washington
3
40
0
19
D. McCluster
4
39
0
23
D. Walker
4
37
1
15
J. Hunter
4
31
1
12T
B. Sankey
4
25
0
12
D. Hagan
1
6
0
6
Fumbles
FUM
LOST
REC
YDS
Z. Mettenberger
1
1
0
0
Kicking
FG
LG
XP
PTS
R. Succop
1/1
35
1/1
4
Punting
NO
AVG
I20
LG
B. Kern
6
48.7
2
62
Kickoff Returns
NO
AVG
TD
LG
L. Washington
3
25
0
39
Punt Returns
NO
AVG
TD
LG
D. McCluster
2
28
0
48