Clarksville, TN – After being picked to finish in the bottom half of the standing, in the pre-season Ohio Valley Conference poll back in August, the Austin Peay State University men's and women's cross country teams seem to be hitting their peak with the OVC Champions coming up on November 1st.
The Lady Govs were picked to finish in seventh place, while the Govs were slected to finish ninth, but improved times and wins over several conference teams during the regular season give both teams confidence that they can come in higher than that pre-season poll indicated.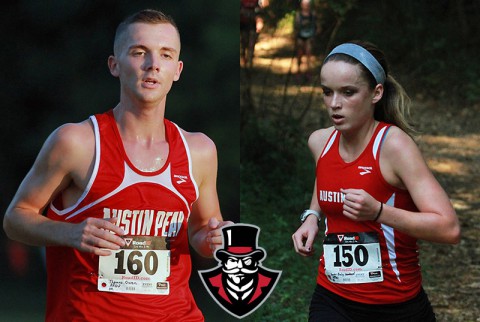 "The men's team has overcome a lot of injuries, losing three guys for the year including Martin Rejman, who was probable our top guy and Elijah Wilson, who was our second or third guy," Austin Peay coach Doug Monar said. "Those were some big injuries, but Daniel Hamm, Kyle Harmon and Alex Haycraft have really stepped up and really done a great job. They've really turned what could have been a disaster into a pretty good season."
In fact, the Govs have their first regular-season met win since October of 2011 by taking first place at the JSU Foothills Invitational back on October 4th, with Hamm also claiming the individual title with a time of 25:51.56 over the eight-kilometer course.
"It's exciting to watch those guys develop," said Molnar of a group that is comprised of eight sophomores and one freshman. "And the one good thing about it that we got a bunch of young guys that got a years' experience, while also have those other guys back too next year."
As for the Lady Govs, they have wins this season over Jacksonville State, Tennessee State, Tennessee Martin and Murray State during the regular season – with a squad that is composed of one senior and junior along with two sophomores and two freshmen.
"The team is young but very exciting group that are running really well right now, so we're anxious to see what's going to happen,' Molnar said. "Molly Jordan and Jessica Gray have been battling it out the whole season, with a couple of those coming down to a lean between the two at the end."
The OVC championship will be held at the Oxford (AL) Lake Recreation Center course, with the women's competing in a 5,000 meter race, while the men's compete in an 8,000 meter distance.
"We're really resting up this week, with no morning practices and laying off the weights," Molnar said. "We'll just do one light workout this week and the rest of the time will be light jogging and stretching.
"The kids love this course and it's a fast course. If we can go down there and everyone runs their personal bests, or close to it, then we'll have a pretty good meet and we'll let he standing take care of themselves."