Austin Peay Sports Information

Clarksville, TN – Junior Samantha Strother led all hitters with 15 kills and Austin Peay State University's volleyball team rallied to post a four-set victory (18-25, 26-24, 25-17, 25-21)  against Tennessee Tech, Friday night, at the Dunn Center.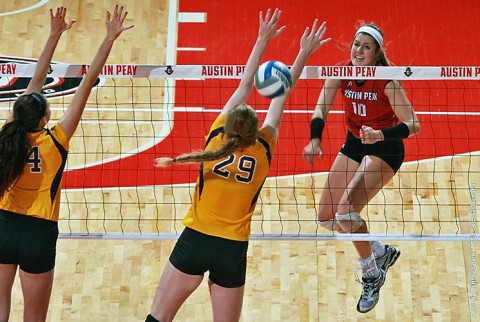 Austin Peay (12-15, 6-5 OVC) got off to a quick start in the opening set, leading 6-2. Tennessee Tech broke the Lady Govs momentum and used a 7-0 run, including three Kellie Williams kills, to build a 12-9 advantage.
The Lady Govs could not recover and ultimately trailed by six points before falling 25-18.
The second set was more closely fought with 12 ties and two lead changes. The first lead change came when Tennessee Tech notched back-to-back kills to take a 2-1 lead. The Golden Eagles lead would reach six points, 14-8, after an Austin Peay error.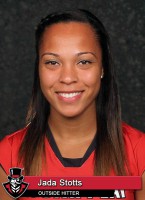 From there the Lady Govs used an 8-2 run, spurred by kills from five different hitters, to tie the set 16-16. That began a series where the teams traded points, with the bulk of the 12 ties occurring in the final stretch. Austin Peay would fend off a set point with a Jada Stotts kill then an Aubrey Marsellis block gave APSU its first set point, which it immediately converted with another Stotts kill, 26-24.
Austin Peay rode the momentum of its come-back win to post a wire-to-wire victory in the third set. The Lady Govs broke out to a 9-1 lead, Stotts recording three kills and two service aces. Tennessee Tech would close to within five points, 21-16, but an Austin Peay timeout and a Hillary Plybon kill ended the threat. The Lady Govs scored the final three points to secure the 25-17 win.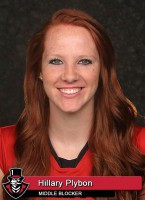 The fourth set was close early, with four ties in the opening 14 points, as Austin Peay charged out to a 4-1 lead only to watch Tennessee Tech use a pair of service aces to tie the set 5-5.
The Lady Govs gained breathing room again with a 3-0 run to build a 10-7 lead.
They would maintain that lead until late in the set when the Golden Eagles closed within a point, 20-19. But back-to-back kills by Marsellis and Slay stabilized APSU's lead and they closed the frame with back-to-back kills by Strother and Plybon to win the match.
Strother's 15 kills – she had seven in the tide-turning second set – were one shy of her career best and came while she hit .382. Marsellis chipped in a career-high tying 12 kills while Stotts (11 kills) and Plybon (10) also reached double-digit kill territory.
Austin Peay finished with 57 kills and a .213 attack percentage. However, the Lady Govs had 48 kills and hit .248 in the final three sets.
Cody Dodd led Tennessee Tech with 14 kills, but was limited to a .163 attack percentage. The Golden Eagles recorded 47 kills but posted just a .188 attack percentage.
Austin Peay closes out its home schedule with a 1:00pm, Saturday contest against Jacksonville State.
Box Score
Tennessee Tech 1 vs Austin Peay 3
| Set Scores | | 1 | 2 | 3 | 4 | Team Records |
| --- | --- | --- | --- | --- | --- | --- |
| Austin Peay | (3) | 18 | 26 | 25 | 25 | 12-15, 6-5 OVC |
| Tennessee Tech | (1) | 25 | 24 | 17 | 21 | 11-16, 6-5 OVC |
Tennessee Tech (11-16, 6-5 OVC)
| ## | Player | SP | K | E | TA | PCT | A | E | SA | SE | RE | DIG | BS | BA | Points |
| --- | --- | --- | --- | --- | --- | --- | --- | --- | --- | --- | --- | --- | --- | --- | --- |
| 6 | Alyssa Povey | 4 | 7 | 2 | 15 | .333 | 0 | 0 | 0 | 1 | 0 | 1 | 2 | 3 | 10.5 |
| 7 | Sharon Anderson | 4 | 3 | 0 | 13 | .231 | 37 | 0 | 0 | 0 | 0 | 7 | 0 | 3 | 4.5 |
| 14 | Jordan Wachowiak | 3 | 5 | 1 | 8 | .500 | 0 | 0 | 0 | 0 | 0 | 0 | 1 | 1 | 6.5 |
| 22 | K'Vonna Johnson | 4 | 9 | 3 | 20 | .300 | 0 | 0 | 0 | 0 | 0 | 4 | 0 | 1 | 9.5 |
| 24 | Kennedy Wade | 4 | 0 | 0 | 0 | .000 | 0 | 0 | 0 | 1 | 1 | 4 | 0 | 0 | 0.0 |
| 29 | Cody Dodd | 4 | 14 | 6 | 49 | .163 | 1 | 0 | 3 | 4 | 3 | 12 | 1 | 1 | 18.5 |
| 2 | Courtney Smith | 4 | 0 | 1 | 2 | -.500 | 4 | 0 | 1 | 1 | 0 | 28 | 0 | 0 | 1.0 |
| 3 | Allison Morrett | 4 | 0 | 0 | 0 | .000 | 2 | 0 | 0 | 0 | 0 | 6 | 0 | 0 | 0.0 |
| 8 | Madison Keyes | 2 | 2 | 2 | 5 | .000 | 0 | 0 | 0 | 1 | 0 | 1 | 0 | 1 | 2.5 |
| 18 | Kellie Williams | 4 | 7 | 5 | 32 | .063 | 0 | 0 | 0 | 0 | 0 | 1 | 2 | 0 | 9.0 |
| TM | TEAM | 2 | 0 | 0 | 0 | .000 | 0 | 0 | 0 | 0 | 2 | 0 | 0 | 0 | 0.0 |
| | Totals | 39 | 47 | 20 | 144 | .188 | 44 | 0 | 4 | 8 | 6 | 64 | 6 | 10 | 62.0 |
Team Attack By Set
Set
K
E
TA
Pct
1
14
5
31
.290
2
14
3
39
.282
3
9
6
36
.083
4
10
6
38
.105
Total Team Blocks: 11.0
LEADERS:
Kills-Aces-Blocks:Cody Dodd (14-3-2); K'Vonna Johnson (9-0-1); Alyssa Povey (7-0-5); Kellie Williams (7-0-2); Jordan Wachowiak (5-0-2); Sharon Anderson (3-0-3); Madison Keyes (2-0-1)Assists:Sharon Anderson (37); Courtney Smith (4); Allison Morrett (2); Cody Dodd (1)Digs: Courtney Smith (28); Cody Dodd (12); Sharon Anderson (7); Allison Morrett (6); K'Vonna Johnson (4); Kennedy Wade (4); Alyssa Povey (1); Madison Keyes (1); Kellie Williams (1)
Austin Peay (12-15, 6-5 OVC)
| ## | Player | SP | K | E | TA | PCT | A | E | SA | SE | RE | DIG | BS | BA | Points |
| --- | --- | --- | --- | --- | --- | --- | --- | --- | --- | --- | --- | --- | --- | --- | --- |
| 3 | ADAMS, April | 4 | 0 | 0 | 0 | .000 | 2 | 0 | 1 | 1 | 0 | 13 | 0 | 0 | 1.0 |
| 4 | EBRIGHT, Sammie | 2 | 0 | 3 | 8 | -.375 | 0 | 0 | 1 | 1 | 0 | 1 | 0 | 0 | 1.0 |
| 7 | MARSELLIS, Aubrey | 4 | 12 | 2 | 24 | .417 | 23 | 0 | 0 | 1 | 0 | 9 | 2 | 0 | 14.0 |
| 8 | LANDON, Liz | 2 | 2 | 1 | 8 | .125 | 0 | 0 | 0 | 0 | 0 | 1 | 0 | 0 | 2.0 |
| 14 | STOTTS, Jada | 4 | 11 | 11 | 34 | .000 | 1 | 0 | 2 | 2 | 0 | 19 | 0 | 1 | 13.5 |
| 15 | PLYBON, Hillary | 4 | 10 | 1 | 19 | .474 | 0 | 0 | 0 | 0 | 0 | 6 | 0 | 0 | 10.0 |
| 1 | FIELDS, Cami | 4 | 1 | 0 | 4 | .250 | 28 | 0 | 0 | 1 | 0 | 4 | 0 | 0 | 1.0 |
| 5 | BALES, Lizzy | 4 | 0 | 1 | 1 | -1.000 | 1 | 0 | 2 | 1 | 2 | 14 | 0 | 0 | 2.0 |
| 6 | SLAY, Ashley | 3 | 6 | 3 | 20 | .150 | 0 | 0 | 0 | 0 | 0 | 1 | 1 | 1 | 7.5 |
| 10 | STROTHER, Samantha | 4 | 15 | 2 | 34 | .382 | 0 | 0 | 0 | 0 | 0 | 2 | 0 | 0 | 15.0 |
| 17 | FERGUSON, Kelly | 2 | 0 | 0 | 3 | .000 | 0 | 0 | 0 | 0 | 0 | 0 | 1 | 2 | 2.0 |
| TM | TEAM | 2 | 0 | 0 | 0 | .000 | 0 | 0 | 0 | 0 | 2 | 0 | 0 | 0 | 0.0 |
| | Totals | 39 | 57 | 24 | 155 | .213 | 55 | 0 | 6 | 7 | 4 | 70 | 4 | 4 | 69.0 |
Team Attack By Set
Set
K
E
TA
Pct
1
9
7
30
.067
2
18
6
44
.273
3
15
5
42
.238
4
15
6
39
.231
Total Team Blocks: 6.0
LEADERS:
Kills-Aces-Blocks:STROTHER, Samantha (15-0-0); MARSELLIS, Aubrey (12-0-2); STOTTS, Jada (11-2-1); PLYBON, Hillary (10-0-0); SLAY, Ashley (6-0-2); LANDON, Liz (2-0-0); FIELDS, Cami (1-0-0)Assists:FIELDS, Cami (28); MARSELLIS, Aubrey (23); ADAMS, April (2); STOTTS, Jada (1); BALES, Lizzy (1)Digs: STOTTS, Jada (19); BALES, Lizzy (14); ADAMS, April (13); MARSELLIS, Aubrey (9); PLYBON, Hillary (6); FIELDS, Cami (4); STROTHER, Samantha (2); EBRIGHT, Sammie (1); LANDON, Liz (1); SLAY, Ashley (1)