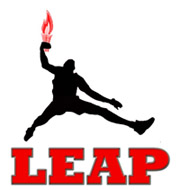 Clarksville, TN – Over 400 were in attendance to watch the 5th annual LEAP step and dance competition held at West Creek High School. Comedian Deztin "DJ" Pryor hosted the event and had the crowd on their feet showing off their moves before the competition.
Local recording artist Rebecca Henry opened with the National Anthem and "How Great is Our God."
Parents, family, friends and community members came out to show their support and watch the teams perform.  Teams that competed in step included West Creek High, Northwest High, and Rossview High. Northeast High competed in dance and Kenwood High in drill.
Between each team performance DJ Pryor kept the excitement going by challenging the crowd to show their moves and cheer for their team.
Pryor worked the crowd and provided comic relief which was sometimes directed at an overzealous spectator who thought they were auditioning for "So You Think You Can Dance."
During the intermission Daymar Institute Step Team, Delta Psi Chi Fraternity Inc, and Clarksville's recent Dancing with the Stars contestants Wanda Hampton and Richard "Reason" Garrett performed.
When asked how he felt about the 5th annual step and dance competition LEAP Executive Director and Founder Richard "Reason" Garrett said, "One of my favorite parts about this annual event is giving parents an opportunity to see their children perform in something positive that they are passionate about. Most dance competitions are held out of state making it difficult for parent involvement. I really enjoyed the surprise twist our host DJ Pryor threw in having the parents and team coaches hit the stage and turn up for the crowd. Kept everyone energized and engaged."
As the judges tallied the scores, LEAP participant Marina Corbin shared her testimony how LEAP has impacted her through exposure to community service, field trips, caring mentors, and valuable life lessons.
"The lesson I remember most was to always be myself because everyone else is taken. I feel more comfortable in my own skin and look forward to getting criminal justice degree and becoming a detective someday," Corbin said.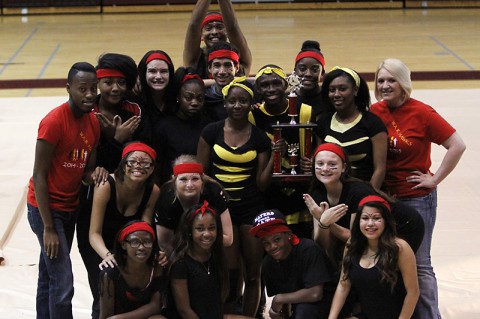 Each team had a total of 5 to 7 minutes to perform and was judged on routine fundamentals which include showmanship, use of floor, precision timing, overall performance as well as other requirements.
Step category winners were West Creek High in first place, Rossview High in second place and Northwest High taking third place. Northeast High School took first place in dance. West Creek High earned their fourth consecutive win with a stellar performance.
Proceeds raised from this event will be used to benefit youth performing arts and allow more participants to attend youth enrichment programs.
LEAP, which stands for Leadership, Enlightenment, Academic Achievement, and Perseverance, also teaches its members about Outreach, Responsibility, and Growth. LEAP provides mentoring, counseling, career development, educational field trips, and community service learning opportunities to student's ages 11 to 18 free of charge.
LEAP receives referrals from the Juvenile Court, DCS, and the Clarksville Montgomery County School System and offers open enrollment for interested youth with parental consent.
For more information about L.E.A.P. ORG. visit www.leaporg.net or call 931.378.0500.