Clarksville, TN – On Tuesday, December 16th, 2014 at 9:33am, the Clarksville Police Department responded to an Aggravated Burglary on the 1700 block of Thistlewood Drive.
Victim one advised that she and victim two observed two male subjects through a window outside hanging around their apartment building. They were sitting in a silver car. Victim one said the subjects kept knocking on their door and walking around the building. The victims did not answer because they did not know the subjects.
Victim one said she also heard them knocking on a neighbor's door. She stated she heard a lot of noise downstairs at the window and hid.
She then observed suspect one in a blue jacket in the house who entered through the locked back window. The screens were removed and lying against the A/C unit. Suspect one went to the front door and opened it for suspect two wearing jeans and a black shirt with blue sleeves; who then entered the apartment.
Victim one and victim two were hiding in a closet but could hear the suspects in the house. Victim three was downstairs in bed and did not see the individuals in the house but could hear them. After a few minutes, it got quiet, and police arrived.
Upon arrival CPD Officers observed the two suspects leaving the area of the apartment. Deshawn Russell was taken into custody. Bert Killins was taken into custody after a brief foot pursuit through the woods. Both suspects were transported to District 1 CI for Detective Kevin Shaw.
The victims' television was recovered in the suspects' vehicle and returned to the owner. Both were booked into Montgomery County Jail. Killins' total bond amount was $75,000.00. Russell's total bond amount was $125,000.00.
Deshawn Russell and Bert Killins are both convicted burglars and have extensive criminal histories.
Deshawn Russell is a 26-year-old Clarksville resident and Bert Killins is a 30-year-old Clarksville resident.
Deshawn Russell
Name: Deshawn Russell
Date of Birth: 11/ 21/ 88
Gender: M
Race: B
Address: 415 9th Street APT A, Clarksville, TN
Arresting Officer: Kevin Shaw
Charged With: Aggravated Burglary
Booked Into: Montgomery County Jail
Bond: $125,000
Bert Killins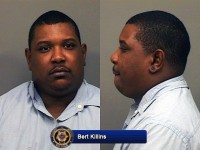 Name: Bert Killins
Date of Birth: 4/ 29/ 84
Gender: M
Race: B
Address: 500 Poston Street, Clarskville, TN
Arresting Officer: Heather Vanatta (Taylor)
Charged With: Aggravated Burglary
Booked Into: Montgomery County Jail
Bond: $75,000