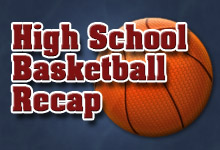 Clarksville, TN – A buzzer beating shot, clutch free throws, a defensive stop or a run in overtime, the boys basketball teams are doing whatever they can to get wins early this season. A lot of them have already found their formula for success. However, a few are still looking for what it takes to get just a single win.
The battle in District 10-AAA is hot and heavy, but not as hot as the team sitting at the top of District 11AA.
Hot List
The Montgomery Central Indians (8-1) defeated Lewis County and Fairview last week to increase their current win streak to seven games. They are undefeated in their district and have lost only one game so far against Cheatham County back in November.
The Kenwood Knights (7-2) have only lost two games so far this season. Last week they escaped a close game against the Clarksville High Wildcats, 49-52, and then skewered the West Creek Coyotes, 66-49 to remain undefeated in the district. The Knights have won their last five games.
Week 5 Recap
The Northeast Eagles (6-3) are the only other boys team to go 2-0 in their district last week. They defeated the Henry County Patriots 60-44. Then, they held off the Rossview Hawks in a low scoring game, 32-27. The Eagles are one game behind the Knights in District 10-AAA.
The Northwest Vikings (5-6) are also one game behind the Knights. They split the week with a win over the Coyotes and a loss in double overtime to the Wildcats. The win over the Vikings and loss to the Knights put the Wildcats (5-5) at .500 in the district.
The Patriots (5-6) picked up a 53-32 win over the Springfield Yellow Jackets to go with their loss to the Eagles last week. Before losing to the Patriots the Yellow Jackets (4-6) won an overtime thriller against the Rossview Hawks.
The loss in overtime to the Yellow Jackets was the second loss for the Hawks (5-5) last week. They have lost four straight District 10-AAA games. The Coyotes (1-11) are also winless in the district. They lost two games last week to extend their losing streak to five.
The Clarksville Academy Cougars broke a four-game losing streak with a narrow win over Nashville Christian, 53-52, last week.
Top Scorers
Northwest's Elijah McCoin, 35 against Clarksville High Friday, Dec. 12
Northwest's JaRyan Young, 33 against Clarksville High Friday, Dec. 12
Clarksville High's Teal Young, 28 against Northwest Friday, Dec. 12
Montgomery Central's Lamont Smith, 25 against Fairview Friday, Dec. 12
Clarksville Academy's Austin Fisher, 20 against Nashville Christian Friday, Dec. 12
District 10-AAA Standings:
Kenwood 4-0
Northeast 3-1
Northwest 3-1
Clarksville 2-2
Henry Co. 2-2
Springfield 2-2
Rossview 0-4
West Creek 0-4