Clarksville, TN – The Clarksville-Montgomery County Economic Development Council (EDC) was notified today that Hemlock Semiconductor, L.L.C. (HSC) will be terminating indefinitely the startup of the Clarksville facility due to unresolved issues in the alternative energy sector.
The shutdown of the plant will be a great loss for the community. The EDC is disappointed by this unexpected news and recognizes that this sector has been troubled and negatively affected on a global level by the U.S. and Chinese governments inability to settle trade agreements.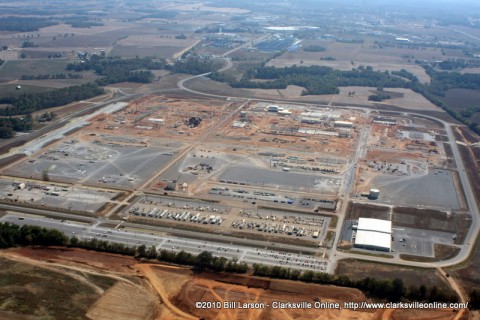 We feel for the loss the employees are experiencing and our economic development team is already working with our City and County Mayors to ensure that we continue to create career opportunities for the citizens in this region.
It is also important to note that the eight-year long relationship between Clarksville-Montgomery County and HSC has garnered several positive outcomes.
The community has experienced massive infrastructure improvements and the Industrial Development Board has been provided 833 acres of land that can be used to recruit new industries. From 2009 to 2011, HSC boosted our local economy during a time of recession by helping to create record highs in both sales tax and hotel/motel tax.
Moving forward, the EDC will work with HSC to create a plan to repurpose the Clarksville site and potentially market it to other industrial prospects that will in turn help create jobs for our community.
HSC has been a valuable community partner since their official announcement to locate in Clarksville-Montgomery County in 2008. The company was an integral community partner through their support of the local school system and several non-profits.
They were also a key player in the creation of the Montgomery County Green Certification Program. Their contribution to Austin Peay State University's Chemical Engineering Program constructed a state of the art facility that has become a game-changing asset to their growing engineering department.
It's important to note that there have been several recent announcements and expansions that will create new hiring opportunities within our region.  In Clarksville-Montgomery County those include Hankook Tire, Agero, Bridgestone Metalpha USA, Akebono and Florim USA.
Our entire staff, the Industrial Development Board and our Mayors are unified in our efforts to continue growing career opportunities for our citizens.