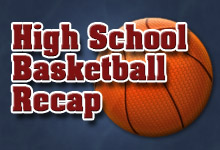 Clarksville, TN – District competition continued to heat up in week 5 of the girls high school basketball season. Only one game separates the top four teams in District 10-AAA, with two teams yet to lose a district game.
However, the top four are thriving at the expense of the bottom four. At the bottom half of the race, two teams have won only won game and two have yet to capture their first district win.
Hot List
The race for the top of District 10-AAA was still run strongly last week by both the Rossview Lady Hawks (8-1) and the Henry County Lady Patriots (8-2). Both teams won three more games last week including two district wins against the same opponents, the Northeast Lady Eagles and the Springfield Lady Yellow Jackets.
The Lady Hawks beat the two teams by a greater margin, but the Lady Patriots are currently on an eight-game winning streak. The regular season may be decided when the two teams meet in January at Rossview.
Week 5 Recap
The Clarksville High Lady Wildcats (5-8) and the West Creek Lady Coyotes (4-5) also played well last week. They both won two district games and remain only one game behind the Lady Hawks and Lady Patriots. The Lady Wildcats and the Lady Coyotes both defeated the Northwest Lady Vikings and the Kenwood Lady Knights last week.
The Lady Vikings' (1-10) two losses to the Lady Knights and the Lady Wildcats last week extend their losing streak to seven games. They remain winless against District 10-AAA opponents. The Lady Yellow Jackets (1-6) are also winless in district play.
Despite losing both their district games last week, both the Lady Eagles (2-5) and the Lady Knights (3-6) have one district victory so far.
After losing to Nashville Christian and McEwen last week, the Clarksville Academy Lady Cougars (1-6) still have only one win this season. That is one more win than the Montgomery Central Lady Indians (0-9) who lost two more games last week to remain winless.
Top Scorers
Rossview's Jemiah Harrison, 22 against Northeast Friday, Dec. 12
Clarksville Academy's Bailey Foote, 22 against McEwen Tuesday, Dec. 9
Northeast's Michelle Donner, 17 against Rossview Friday, Dec. 12
Rossview's Mickey Head, 15 against Northeast, Friday Dec. 12
District 10-AAA Standings:
Rossview 4-0
Henry Co. 4-0
Clarksville 3-1
West Creek 3-1
Northeast 1-3
Kenwood 1-3
Northwest 0-4
Springfield 0-4