Clarksville, TN – Funny, outrageous, emotionally affecting and occasionally angry … Eve Ensler's wildly popular series of monologues about women and performed by women is back for the thirteenth year with the Roxy Regional Theatre's presentation of "The Vagina Monologues", January 9th – January 31st, 2015.
Leslie Greene, Kristina Wilson and Adriane Wiley-Hatfield take the stage of the Roxy's theotherspace in readings of these monologues based on interviews Eve Ensler conducted with 200 women about their views on sex, relationships, and violence against women.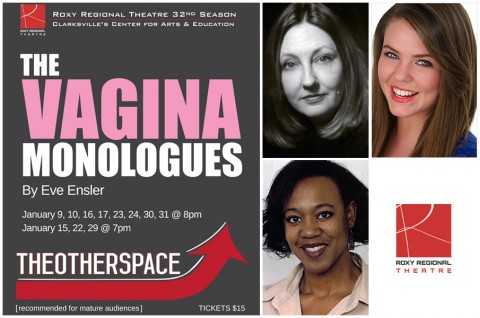 An Obie Award-winning whirlwind tour of a forbidden zone, "The Vagina Monologues" introduces a wildly divergent gathering of female voices, including a six-year-old girl, a septuagenarian New Yorker, a vagina workshop participant, a woman who witnesses the birth of her granddaughter, a Bosnian survivor of rape, and a feminist happy to have found a man who "liked to look at it."
In an interview with women.com, Ensler said that her fascination with vaginas began because of "growing up in a violent society."  "Women's empowerment is deeply connected to their sexuality." She also stated, "I'm obsessed with women being violated and raped, and with incest. All of these things are deeply connected to our vaginas."
"The Vagina Monologues" is presented in theotherspace, the 50-seat black-box theatre located upstairs at the Roxy, and runs January 9th through January 31st, playing Thursdays at 7:00pm and Fridays and Saturdays at 8:00pm.
Tickets are $15.00 and may be purchased online at www.roxyregionaltheatre.org , by phone at 931.645.7699, or at the theatre during regular box office hours (9:00am to 2:00pm, Monday through Friday, and one hour prior to curtain).
The Roxy Regional Theatre is located at 100 Franklin Street in Clarksville, TN.