Austin Peay Sports Information

Charleston, IL – With DeeDee Smith and the defense leading the way, Austin Peay State University rallied from a 13-point second-half deficit to clip Eastern Illinois, 56-52, Saturday afternoon in Ohio Valley Conference play in Lantz Arena. It was APSU's first 2014-15 road victory.
The victory snapped APSU's two-game losing streak and improved it to 7-13 overall and 2-4 in the OVC.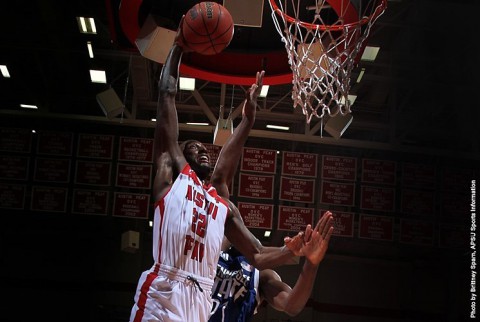 It proved to be a lost weekend for EIU, which lost its second straight in falling to 12-8 overall and 6-2 in the OVC—the Panthers lost to Murray State also at home, Thursday night.
With APSU down 33-20 just 1 ½ minutes into the second half, APSU coach Dave Loos called a timeout and instructed his Governors to press full-court against Cornell Johnston, the reigning OVC Player and Freshman of the Week, and his Panthers teammates.
With the rangy 6-2 Smith harassing the 5-7, 150-pound Johnston, the young point guard into four second-half turnovers while fellow backcourt mate Reggie Smith committed three.
Not only did Governors turn the 10 second-half turnovers into 16 points, they also forced the Panthers into a quicker tempo. After shooting 50 percent (12 of 24) in the first half, EIU was just 9-of-27 (33 percent) in the final half. The Panthers ended with 19 turnovers, 10 in the second half
APSU got off to a fast start, jumping out to an 11-3 lead in the game's first five minutes but then watched Eastern Illinois outscore the Govs 26-9 the rest of the half. In fact, after a 4-of-6 shooting start, the Govs were a horrific 4-of-18 (22 percent) the rest of half. When the Panthers scored the second half's first two buckets, Loos immediately called timeout and instituted a new defensive strategy—a risky one for a team that has a short bench.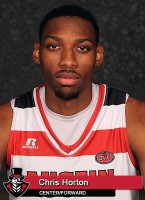 "I was really worried and discouraged to be honest at that point as it looked like we were getting ready to mail it in," Loos said. "We got a little momentum with our full-court defense—the press served us well. It changed the game's tempo. DeeDee did a great job of chasing Johnston around. He is a fast guy and hard to keep in front of.
"I also thought Khalil (Davis) did a good job of slowing Trae Anderson (who had a game-high 22 points) down in the second half. If a guy is wearing you out like he was in the first half, keeping the ball away from him is a pretty good idea…and that is what Khalil did."
Chris Horton started the 13-0 run with a short jumper to cut the deficit to 11 with 17:43 left. The run ended on a pair of Josh Robinson back-to-back three-pointers, the second with 13:40 left to make it a 36-36 contest. During that stretch EIU committed a trio of turnovers and went 0-of-5 from the floor.
Trae Anderson temporarily stopped the Panther drought by bulling his way inside, but the Govs Davis responded with a fee-throw line jumper to tie it again. But Smith stole the ball from Johnston and slammed the ball home to give APSU its first lead, 40-38, since midway in the first half.
The Panthers' Luke Norman responded with a three to regain the advantage for EIU, 41-40, before Ed Dyson put APSU back up with a bucket.
It literally became a back-and-forth contest until Davis tied it at 49-49 with a free throw at the 2:34 mark and then Dyson, who led tied with Davis for the team lead with 14 points, gave APSU the lead for good with another free throw at the 1:35 mark. With a chance to put EIU back up, Luke Piotrowski misfired from close in with 24 seconds left. Horton grabbed the rebound and was immediately fouled.
On another night in which the Govs struggled at the free-throw line (13 of 25), Horton calmly sank both free throws for a three-point advantage. Horton finished with 12 points and 12 rebounds—his 11th double-double this season. Johnston's attempt to tie with a three pointer came up short with 11 seconds left.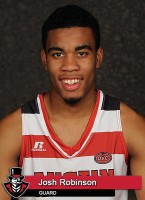 This time Davis was fouled and he made it a four-point lead with a one free throw with seven seconds left. Johnston answered with a three to cut the deficit to one with five seconds left but Robinson converted three-of-four free throws—Robinson finished with 11 points, his fifth straight double-figure effort—to allow the Govs to walk away with their first road win in 11 chances this season.
APSU shot just 19 of 50 (38 percent) from the floor, coupled with their second straight free-throw shooting performance below 60 percent. APSU also was out-rebounded 34-31
"We always say it starts on the defensive end," Loos said. "And tonight was the perfect example of that. We certainly didn't execute perfectly in a lot of areas but the defense came through for us, especially in the second half.
"We needed this game in the worst way and I am proud of the way we battled back in the second half."
Austin Peay returns home Wednesday, January 28th to take on Morehead State. Tip off is at 7:00pm CT.
Box Score
Eastern Illinois 52 (12-8 6-2 OVC) vs Austin Peay 56 (7-13 2-4 OVC)
| | 1 | 2 | Total | Records |
| --- | --- | --- | --- | --- |
| Austin Peay | 20 | 36 | 56 | 7-13 (2-4 OVC) |
| Eastern Illinois | 29 | 23 | 52 | 12-8 (6-2 OVC) |
Austin Peay 56
##
Player
FGM-FGA
3FGM-3FGA
FTM-FTA
OFF-DEF
TOT
PF
TP
A
TO
BLK
STL
MIN
24
Dyson, Ed
5-7
1-2
3-5
0-4
4
1
14
2
2
0
1
35
11
Davis, Khalil
4-10
2-4
4-8
2-2
4
2
14
1
1
1
2
30
5
Horton, Chris
5-14
0-0
2-3
5-7
12
0
12
2
1
2
2
38
22
Smith, Damarius
1-6
0-1
1-2
1-3
4
3
3
4
2
0
1
25
15
Freeman, Chris
1-3
0-0
0-2
0-2
2
2
2
0
1
0
0
22
4
Robinson, Josh
3-7
2-5
3-4
0-3
3
1
11
0
2
0
3
30
12
Purvis, Jeremy
0-2
0-2
0-1
0-0
0
0
0
1
0
0
1
9
2
Williams, Zavion
0-1
0-0
0-0
0-0
0
2
0
0
2
0
1
8
1
Diop, Assane
0-0
0-0
0-0
0-0
0
0
0
0
0
0
1
3
0
TEAM
0-0
0-0
0-0
1-1
2
0
0
0
0
0
0
0
Totals
19-50
5-14
13-25
9-22
31
11
56
10
11
3
12
200
Percentages
38.0%
35.7%
52.0%
Eastern Illinois 52
##
Player
FGM-FGA
FGM3-FGA3
FTM-FTA
OFF-DEF
TOT
PF
TP
A
TO
BLK
STL
MIN
15
Anderson, Trae
10-17
1-2
1-1
3-3
6
5
22
1
4
0
2
31
2
Johnston, Cornell
4-10
3-6
0-0
1-3
4
3
11
8
5
0
0
36
5
Smith, Reggie
2-6
1-3
1-3
0-0
0
4
6
0
3
0
0
18
33
Piotrowski, Luke
2-5
0-0
1-2
0-2
2
1
5
0
2
4
0
29
30
Chatman, Dylan
0-0
0-0
0-0
0-2
2
0
0
0
1
0
0
12
10
Norman, Luke
1-2
1-2
0-0
0-1
1
1
3
1
0
0
1
22
11
Johnson, Anthony
1-1
1-1
0-0
0-4
4
1
3
0
1
0
0
6
3
Viser, LeTrell
1-4
0-2
0-0
1-5
6
2
2
1
2
1
1
20
55
Piper, Josh
0-5
0-4
0-0
1-2
3
1
0
0
0
1
1
15
12
Anderson, Keenen
0-1
0-0
0-0
1-1
2
2
0
0
0
1
0
11
TM
TEAM
0-0
0-0
0-0
1-3
4
0
0
0
1
0
0
0
Totals
21-51
7-20
3-6
8-26
34
20
52
11
19
7
5
200
Percentages
41.2%
35.0%
50.0%