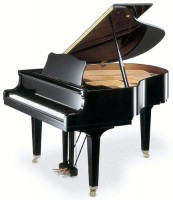 Clarksville, TN – Buying a piano is an exciting time in the life of any person or family. A piano can last as long as 40 years and can be as expensive a purchase as an automobile if you buy top quality.
Most people buy their first piano in order for a child to take piano lessons. Many parents realize the importance of early training if a child is to become an accomplished musician. On the other hand, most parents, unless they are pianists themselves, rarely understand the complexity of buying a piano.
Pianos come in several sizes. Grand pianos range in size from five to nine feet. Very few children start out practicing at home on a grand piano unless there is already one in the family. Most grand pianos cost thousands of dollars.
Frequently, parents choose an upright piano for a first piano; they range in height from 36 to 51 inches. The floor space taken up by an upright piano is about five feet by two feet. A studio upright, the largest of upright pianos, is 44 to 51 inches high.
A console piano is 39 to 42 inches high. Older pianos ranging from 36 to 37 inches high, called spinets, are no longer built because of their inferior sound quality; it is still possible to buy one of these (used, of course) pianos, however, for a beginner.
Many people buy a piano through a newspaper ad. It is critical if you are going to choose this method to take someone who is knowledgeable about pianos with you. A piano that has not been tuned in years is not a bargain. Pianos should be tuned about every six months in order to be kept in good playing order.
Strings in a piano are attached to tuning pins. If these pins are allowed to remain in an "out of tune" position for years, they most likely will not hold tuning well even after they are tuned repeatedly. If you know someone who tunes pianos, you should take this person along when you are looking at used pianos—even if you have to pay the person (and that's only fair!) for his experience. The small sum you pay the "expert" may save you hundreds of dollars and prevent your buying a faulty instrument.
Buying from a piano store—or even just looking at pianos there—is worthwhile because you can try out many kinds of pianos at once to see what appeals to you. The tone of a piano—even that of instruments of the same brand and style—is very individual. Your child should try out the instrument to see what feels comfortable and appeals to her. If she does not like the instrument, you can bet she won't be practicing faithfully.
Never buy a piano with a warped or cracked soundboard. This is an expensive repair and may make the piano next to worthless.
Older pianos have ivory keys; newer ones have plastic ones. Ivory keys can be cleaned by using a damp cloth (not dripping because you don't want any water to go between the keys) and solid white toothpaste (on the white keys only). Placing the piano where sunlight can hit the keys can help yellowed keys become whiter. Plastic keys can be cleaned with a mild solution of vinegar and water, making sure no water goes between the keys. All keys should be dried with a lint-free cloth.
By the way, no piano should ever be placed on an outside wall of the house because dampness is lethal to a piano.
Some of the best brands of pianos are Steinway or Steinway & Sons (the "Cadillac" of pianos), Baldwin, Wurlitzer, Chickering, Yamaha, Kawai, Samick, Bechstein, Ibich, Pleyel, Gaveau, Kemble, Chappel, Petrof, and Scholze.
Should you buy a traditional acoustic or a digital piano? You need to take several things into consideration. If you buy a traditional acoustic piano, you need to commit to having the piano tuned without fail at least every six months. This may cost from $75 up per tuning. A digital piano never needs tuning.
A traditional piano has one sound. A digital piano usually comes with the sounds of many other instruments programmed into its database. It also has capabilities of being attached to other electronic equipment. The versatility is much greater.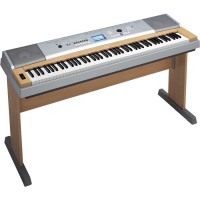 Digital pianos come in many sizes also. If your child is going to take piano lessons, make sure you buy an 88-key instrument. Acoustic pianos have 88 keys and most music is written with these parameters in mind.
Digital pianos with weighted keys give a similar feel to playing an acoustic piano and are a much better choice than those that are not weighted.
Some digital pianos are much less expensive than quality acoustic pianos. Digital pianos can also come in a grand piano case and they are from several hundred to thousands of dollars.
Buying a piano is an important decision because a good piano should last you many years and can provide unlimited pleasure. Don't rush into a decision. Try out many pianos until you are satisfied that you are making the choice that is right for you.
Happy hunting!