Austin Peay Sports Information

Starkville, TN – Austin Peay State University's softball team rallied twice from behind to tie Middle Tennessee, Sunday in the final day of the Mississippi State Bulldog Kickoff Classic, but its final rally in the seventh inning came up a couple of hits short in a 8-5 loss.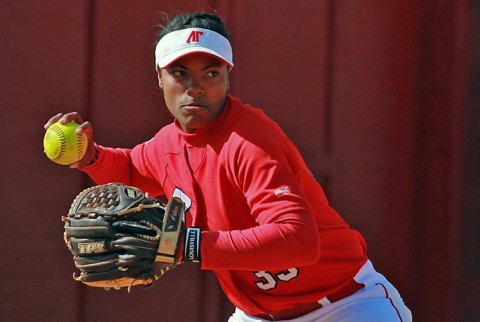 The Lady Govs (1-4) were down three runs heading into their final at bat, but had two of its hottest hitters coming to the plate.
But Laurel Burroughs opened the inning with a pop-up to second base, followed by Christiana Gable grounding out to third.
But Niya Sparks ripped a shot up the middle for a single, followed by a walk to Chandler Groves, bring up the possible tying run to the plate in Savanna Oliver.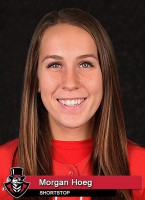 Oliver hit the ball down the third-base line, but Blue Raiders' third baseman Samantha Nieves speared the ball and out-raced Sparks to third for the force out to end the game.
Middle Tennessee (2-2) had taken its first lead in the top of the first on an RBI single by Carlie Jenkins, but Gable tied the game with a sacrifice fly in the bottom of the frame – scoring Morgan Hoeg, who had led off the inning with a double down the left-field line.
The Blue Raiders would retake the lead with three runs in the top of the third inning, highlighted by a two-run single by Megan Griffith.
Austin Peay would answer right back with three runs of their own in the bottom of the inning to tie the game 4-4.
Courtney Brower and Hoeg would record back-to-back hits to open the inning, followed by walks to Burroughs and Gable to force in a run.
Hoeg would lead the Lady Govs with two hits.
Two outs later, Chandler would single into right to drive in the other two runs to tie the game 4-4.
But Middle Tennessee would take the lead for good in the top of the fourth inning on an RBI triple by Cor'Nisha Birdsong, with the Blue Raiders making it 6-4 in the fifth on a throwing error by Austin Peay.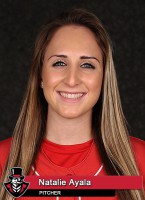 The Lady Govs cut the deficit to 6-5 in the bottom of the fifth on an RBI groundout by Sparks, but that would be as close as they would get, with Middle Tennessee adding two more runs in the sixth on a Jenkins single to go up 8-5.
Natalie Ayala (1-2) took the loss for Austin Peay, despite striking out five and walking none.
Austin Peay is now off until Saturday, when it opened the home part of the schedule with a noon doubleheader versus Miami (Ohio) at Cheryl Holt Field.
Box Score
Middle Tennessee 8 (2-2) vs Austin Peay 5 (1-4)
| | 1 | 2 | 3 | 4 | 5 | 6 | 7 | | | R | H | E |
| --- | --- | --- | --- | --- | --- | --- | --- | --- | --- | --- | --- |
| Middle Tennessee | 1 | 0 | 3 | 1 | 1 | 2 | 0 | | 8 | 13 | 1 |
| Austin Peay | 1 | 0 | 3 | 0 | 1 | 0 | 0 | | 5 | 9 | 3 |
W: MCCLURE, Caitlin (1-0) L: AYALA, Natalie (1-2)
S: CHENEY, Kelci (1)
Middle Tennessee (2-2)
| Player | AB | R | H | RBI | BB | SO | PO | A |
| --- | --- | --- | --- | --- | --- | --- | --- | --- |
| BIRDSONG, Cor'Nisha cf | 4 | 3 | 3 | 1 | 0 | 0 | 2 | 0 |
| FREEMAN, Kiarra rf | 3 | 2 | 2 | 0 | 0 | 0 | 3 | 1 |
| JENKINS, Carlie 1b | 3 | 1 | 2 | 3 | 0 | 1 | 5 | 0 |
| GRIFFITH, Megan ss | 4 | 0 | 1 | 2 | 0 | 0 | 0 | 0 |
| NIEVES, Samantha 3b | 4 | 0 | 1 | 0 | 0 | 0 | 2 | 2 |
| WILLIS, Cheyenne dp | 3 | 1 | 2 | 0 | 0 | 0 | 0 | 0 |
| HARRIS, Morgan c | 4 | 0 | 1 | 1 | 0 | 1 | 4 | 2 |
| WHALEY, Austyn 2b | 4 | 0 | 0 | 0 | 0 | 2 | 3 | 0 |
| CORTEZ, Alma lf | 4 | 1 | 1 | 0 | 0 | 1 | 2 | 0 |
| MCCLURE, Caitlin p | 0 | 0 | 0 | 0 | 0 | 0 | 0 | 0 |
| CHENEY, Kelci p | 0 | 0 | 0 | 0 | 0 | 0 | 0 | 3 |
| Totals | 33 | 8 | 13 | 7 | 0 | 5 | 21 | 8 |
BATTING:
2B: WILLIS, Cheyenne 1
3B: BIRDSONG, Cor'Nisha 1
SH: FREEMAN, Kiarra 1
BASERUNNING:
SB: BIRDSONG, Cor'Nisha 2; FREEMAN, Kiarra 1; WILLIS, Cheyenne 1; CORTEZ, Alma 1
CS: JENKINS, Carlie 1
HBP: JENKINS, Carlie 1; WILLIS, Cheyenne 1
FIELDING:
E: GRIFFITH, Megan 1
Austin Peay (1-4)
| Player | AB | R | H | RBI | BB | SO | PO | A |
| --- | --- | --- | --- | --- | --- | --- | --- | --- |
| HOEG, Morgan ss | 4 | 1 | 2 | 0 | 0 | 0 | 0 | 2 |
| BURROUGHS, Laurel 2b | 2 | 2 | 1 | 0 | 1 | 0 | 2 | 1 |
| GABLE, Christiana 1b | 2 | 1 | 1 | 2 | 1 | 0 | 9 | 0 |
| ARKANSAS, Rikki pr | 0 | 0 | 0 | 0 | 0 | 0 | 0 | 0 |
| SPARKS, Niya 3b | 4 | 0 | 1 | 1 | 0 | 0 | 1 | 4 |
| GROVES, Chandler lf | 3 | 0 | 1 | 2 | 1 | 1 | 0 | 0 |
| OLIVER, Savanna rf | 4 | 0 | 1 | 0 | 0 | 0 | 3 | 0 |
| INAGAKI, Erica pr | 0 | 0 | 0 | 0 | 0 | 0 | 0 | 0 |
| AYALA, Natalie p | 2 | 0 | 1 | 0 | 0 | 1 | 0 | 1 |
| NORRIS, Heather ph/p | 1 | 0 | 0 | 0 | 0 | 1 | 0 | 0 |
| PAVEL, Mel c | 3 | 0 | 0 | 0 | 0 | 0 | 6 | 1 |
| BROWER, Courtney cf | 3 | 1 | 1 | 0 | 0 | 1 | 0 | 0 |
| Totals | 28 | 5 | 9 | 5 | 3 | 4 | 21 | 9 |