Nashville, TN – The 2015 Children's Advocacy Days will be March 10th-11th at War Memorial Auditorium. The event gathers child advocates from across the state to learn more about policies related to children and meet with state leaders. The theme of the 2015 Children's Advocacy Days is "Everyday Superheroes…Every Day!" and celebrates the efforts of those who work every day to make Tennessee children's lives better.
Dr. Kenneth Minkoff of Harvard University will speak on Wednesday. He is one of the nation's leading experts on integrated treatment of individuals with co-occurring psychiatric and substance (dual diagnosis) disorders.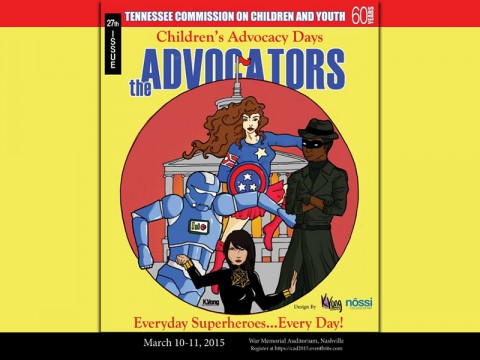 Other highlights of the event include:
Tuesday
Presentations by commissioners of Children's Services, Education, Health, Human Services and Mental Health and Substance Abuse Services;
Filmmaker Brett Culp, director of "Legends of the Knight";
Judge Dwight Stokes on "Justice for All: One Child at a Time";
Bill Millett on advocacy and pre-K;
Jude White, executive director, Governor's Children's Cabinet, on KidCentral TN; and,
Award presentations.
Wednesday's program includes:
Minkoff, Harvard University;
Katie Spurlock, director of Community Partnerships, The Urban Child Institute, Memphis, on social-emotional health;
Chris Peck, associate director, Pyramid Peak Foundation, Memphis, on toxic stress;
Mary Graham, CEO, United Ways of Tennessee, on the new Tennessee Afterschool Network;
Graham Thomas, director of Community Partnerships, TN Achieves;
Mary Nell Bryan, president, Children's Hospital Alliance of Tennessee on insurance coverage for children and other Tennesseans;
Tawny Spinelli, assistant director, Governor's Children's Cabinet;
Videos of community success stories.
Awards to be presented on Tuesday include the Senator Douglas Henry Public Official Award, the John Seigenthaler Making KIDS COUNT Media Award, the Jim Pryor Child Advocacy Award and the Youth Excellence Award.
The complete agenda is available at http://www.tn.gov/tccy/cad-ag.pdf.
TCCY partners with a variety of child-serving organizations to sponsor Children's Advocacy Days. Information about registration for Children's Advocacy Days is available at www.cad2015.eventbrite.com.
About the Tennessee Commission on Children and Youth
The Tennessee Commission on Children and Youth is a small state agency created by the Tennessee General Assembly. Its primary mission is to advocate for improvements in the quality of life for Tennessee children and families.
Information on the agency is available at www.tn.gov/tccy.