Clarksville, TN – The weekly Clarksville Parks and Recreation Department Recreation Report provides Clarksvillians with a glimpse at the activities and events that are available from the Parks and Recreation Department for them to enjoy together as a family.
This weeks highlights include: Winter Gym is coming to a Close, Adult Softball Leagues, Youth Archery at the Crow Center, Martial Arts, Queen City Road Race and Get in shape at the Kleeman Center.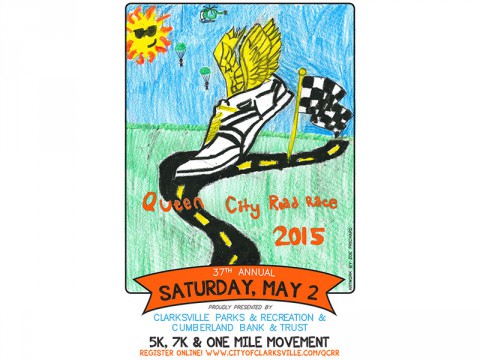 Winter Gym is coming to a Close
The 2014-15 season of the Winter Gym program comes to a close on March 19, but there is still time to squeeze in a few more sessions of fun! Winter Gym provides free, open gym time to the public at Byrns Darden Elementary School's gymnasium every Monday, Tuesday, and Wednesday from 6:00pm to 9:00pm.
Pre-registration is not required for Winter Gym participation, but we do request that children 13-years-old or younger be accompanied by an adult.
Adult Softball Leagues
Adult Softball Coaches' packets will be available for pickup at 102 Public Square on Tuesday, March 17th. The excitement begins as the Spring Season kicks off March 22nd!
Youth Archery at the Crow Center
Registration is underway for Youth Archery. Youth Archery is open to ages 9-13 and costs just $10.00 for the four-week session. Classes will be held at 4:00pm every Friday, beginning April 3rd, at the Crow Center.
A Community Center ID is required to participate and can be purchased at the Clarksville Parks and Recreation Main Office or at any of our three Community Centers.
Martial Arts
Did you know that the Crow Center offers Martial Arts for ages 3-years-old to adult classes? They do! Classes take place on Tuesdays, Thursdays, and Saturdays at the Center and can be purchased in monthly packages. Class packages for individuals are $70.00 a month, $100.00 a month for groups of two, $125.00 a month for groups of three, or $135.00 a month for groups of four.
To take part in Martial Arts, please call the Crow Center at 931.647.3071.
Queen City Road Race
It is time to register for the Queen City Road Race, presented by Cumberland Bank & Trust! The 37th annual event will take place May 2nd and includes a 5K, 7K, and One Mile events, but registration is underway right now.
Registration for the Queen City Road Race is simple. Those registering in the 7K and the 5K may do so online or in person. Online registration can be completed by visiting www.cityofclarksville.com/qcrr.
Register now through April 17th to receive the "early bird" rate of only $20.00 for the 5K and 7K events. After that date, you may register through race day, but the cost will be $25.00. Cost to participate in the One Mile Movement is $5.00. Race registration includes a moisture-wicking race t-shirt for the first 1900 registrants.
Get in shape at the Kleeman Center
Skip the gimmicks or fad diets and go for Just Ordinary Exercise this spring and summer! Our Instructor, Coach Hart, can help you reach your individual fitness goal with the J.O.E. program at the Kleeman Center. To ensure you get the proper attention, class space is limited to the first 20 participants so be sure to register soon.
Classes begin April 27th and are held Monday through Thursday from 6:00pm to 7:00pm. The cost for the nine-week session is $65.00 with a Community Center ID.
Sections
Events
Topics
5k Run, 7k Run, Adult Softball Leagues, Archery Classes, Byrns Darden Elementary School, Clarksville Parks & Recreation Department, Clarksville Parks and Recreation, Clarksville Parks and Recreation Report, Clarksville TN, Crow Community Center, Cumberland Bank and Trust, Kleeman Community Center, martial arts, One Mile Movement, Public Square, Queen City Road Race, Winter Gym