Austin Peay Sports Information

Martin, TN – Austin Peay State University's Natalie Ayala held UT Martin scoreless over the final five innings of play, Sunday, as the Lady Govs softball team came away with a 6-3 Ohio Valley Conference win at Bettye Giles Field.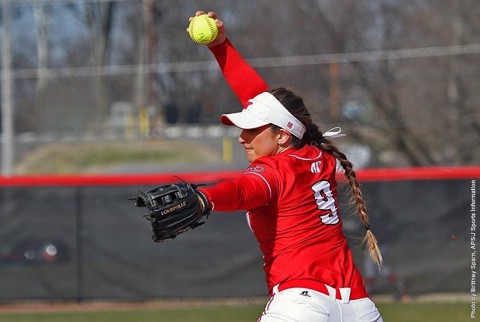 Ayala (3-6) scattered eight hits in the victory for the Lady Govs (6-19, 3-7 OVC), while striking two and walking two, with the Skyhawks, who scored 18 runs in Saturday's doubleheader, were held to just three second-inning runs.
From the opening batter it looked like it might be Austin Peay's day. Hot-hitting Chandler Groves smacked a 3-2 pitch over the scoreboard in left field for a home run – extending her current hit streak to seven and games reaching base streak to 12.
The Lady Govs added to their lead in the top of the second inning, taking advantage of Tennessee Martin's (16-15, 4-5 OVC) first weekend error. Morgan Hoeg reached on that error by Skyhawks third baseman Jodie Duncan to start the inning, followed by Erica Inagaki's bunt single, and a ground ball behind to the right side moving both runners into scoring position.
Austin Peay wouldn't miss its opportunity; with Courtney Brower bringing in Hoeg with a single before Groves' deep sacrifice fly to right scored Inagaki for a 3-0 advantage.
The Skyhawks answered with three runs in the bottom of the inning to tie the game 3-3, on a walk, three hits and a sacrifice fly.
But that would be the final Skyhawks runs, with Austin Peay taking the lead for good in the top of the third inning.
Christiana Gable opened APSU's third inning with a single, and after a sacrifice by Alexis Hill and a ground out by Vinchenza DiBenedetto moved her around to third, Gable scored on a single by Hoeg to give the Lady Govs a 4-3 lead.
Austin Peay would add a couple of insurance runs in the fifth, with Inagaki driving in Hill with a single and Hoeg scoring on a throwing error by Tennessee Martin's catcher for the final 6-3 margin.
Box Score
Austin Peay (6-19 / 3-8) -vs- Tennessee Martin (16-15 / 4-5)
| | 1 | 2 | 3 | 4 | 5 | 6 | 7 | R | H | E |
| --- | --- | --- | --- | --- | --- | --- | --- | --- | --- | --- |
| Austin Peay | 1 | 2 | 1 | 0 | 2 | 0 | 0 | 6 | 9 | 0 |
| Tennessee Martin | 0 | 3 | 0 | 0 | 0 | 0 | 0 | 3 | 8 | 2 |
W: AYALA, Natalie (3-6)     L: VINCENT, Casey (3-5)
Austin Peay 6
| | Player | AB | R | H | RBI | BB | SO | LOB |
| --- | --- | --- | --- | --- | --- | --- | --- | --- |
| lf | GROVES, Chandler | 3 | 1 | 2 | 2 | 0 | 1 | 0 |
| 2b | BURROUGHS, Laurel | 3 | 0 | 0 | 0 | 0 | 0 | 2 |
| 1b | GABLE, Christiana | 4 | 1 | 1 | 0 | 0 | 0 | 0 |
| c | HILL, Alexis | 1 | 1 | 0 | 0 | 2 | 0 | 2 |
| dp | DiBENEDETTO, Vinchen | 4 | 0 | 1 | 0 | 0 | 1 | 1 |
| 3b | HOEG, Morgan | 4 | 2 | 1 | 1 | 0 | 0 | 0 |
| ss | INAGAKI, Erica | 3 | 1 | 2 | 1 | 1 | 1 | 1 |
| cf | LAKE, Marissa | 4 | 0 | 0 | 0 | 0 | 1 | 2 |
| rf | BROWER, Courtney | 2 | 0 | 2 | 1 | 0 | 0 | 0 |
| p | AYALA, Natalie | 0 | 0 | 0 | 0 | 0 | 0 | 0 |
| | Totals | 28 | 6 | 9 | 5 | 3 | 4 | 8 |
Batting
HR:GROVES, Chandler (1)
SH:BURROUGHS, Laurel (1); HILL, Alexis (1)
SF:GROVES, Chandler (1)
Baserunning
HBP:BROWER, Courtney (1)
Tennessee Martin 3
| | Player | AB | R | H | RBI | BB | SO | LOB |
| --- | --- | --- | --- | --- | --- | --- | --- | --- |
| dp | DAUGHERTY, Kacie | 4 | 0 | 2 | 0 | 0 | 0 | 0 |
| pr | SMITH, Chelsey | 0 | 0 | 0 | 0 | 0 | 0 | 0 |
| ss | MCCLURE, Samantha | 4 | 0 | 1 | 0 | 0 | 0 | 1 |
| cf | GONZALES, Carly | 3 | 0 | 0 | 0 | 0 | 0 | 0 |
| 1b | TATE, Kenzi | 1 | 0 | 0 | 0 | 2 | 0 | 2 |
| pr | ZIZZI, Bella | 0 | 1 | 0 | 0 | 0 | 0 | 0 |
| rf | HANSEN, Alicia | 3 | 1 | 1 | 0 | 0 | 0 | 2 |
| lf | DIXON, Kelsey | 3 | 1 | 2 | 1 | 0 | 0 | 0 |
| 3b | DUNCAN, Jodie | 3 | 0 | 1 | 0 | 0 | 0 | 0 |
| c | MECKL, Renate | 2 | 0 | 0 | 0 | 0 | 1 | 0 |
| ph | SMITH, Aeron | 1 | 0 | 1 | 0 | 0 | 0 | 0 |
| 2b | DODSON, Savannah | 2 | 0 | 0 | 0 | 0 | 1 | 0 |
| ph | SMITH, Lauren | 0 | 0 | 0 | 1 | 0 | 0 | 0 |
| p | VINCENT, Casey | 0 | 0 | 0 | 0 | 0 | 0 | 0 |
| p | WIEGAND, Elizabeth | 0 | 0 | 0 | 0 | 0 | 0 | 0 |
| p | KENNEDY, Brooke | 0 | 0 | 0 | 0 | 0 | 0 | 0 |
| | Totals | 26 | 3 | 8 | 2 | 2 | 2 | 5 |
Batting
SF:SMITH, Lauren (1)
Baserunning
CS:DUNCAN, Jodie (1)
Fielding
E:DUNCAN, Jodie (1); MECKL, Renate (1)