APSU Sports Information

Clarksville, TN – A five home run barrage lifted Austin Peay State University's baseball team to a 12-10 Ohio Valley Conference victory against Tennessee Tech, Sunday, at Raymond C. Hand Park.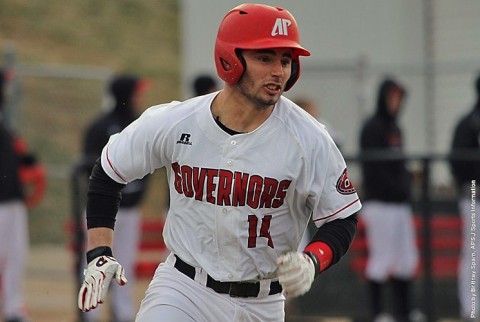 Austin Peay (14-10, 8-4 OVC) completed a three-game sweep of their rival for the first time since 2011.
It is the Govs second OVC series sweep this season and helps keep them in fourth place after four weeks of conference play.
Catcher Ridge Smith had two home runs in the game and his leadoff shot in the fifth inning put the Govs ahead for good.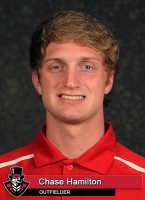 Center fielder Chase Hamilton added a three-run home run later in the inning to put the Govs ahead 10-5. Designated hitter Patrick Massoni would add a two-run home run in the seventh for a 12-7 lead that would stand.
The outburst was enough for starting pitcher Caleb Powell (4-0) to keep his record unblemished. He had to overcome a five-run third inning that was extended by both a Govs error and a hotly debated call at first base that resulted in a single. After that play, Powell would surrender a three-run home run as Tennessee Tech took a 5-2 lead.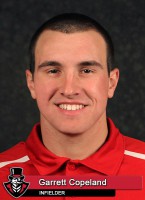 Austin Peay responded immediately with a three-run third inning to tie the game. Second baseman Garrett Copeland hit a two-out, two-run double to start the scoring. Three batters later first baseman Dre Gleason was hit by a pitch with the bases loaded to level the game, 5-5.
Powell held the Golden Eagles scoreless in the fourth and fifth innings to give the Govs offense time to mount its rally. Powell ultimately went 5.2 innings, allowing five runs (one earned) on 10 hits while striking out six batters.
Tennessee Tech (10-16, 4-8 OVC) would rally for two runs in the sixth and three runs in the ninth to keep Austin Peay close. First baseman Chase Chambers' two-run double in the sixth trimmed the deficit to 10-7.
In the ninth, designated hitter Ryan Flick hit a solo home run, second baseman Trevor Putzig had a RBI double and center fielder David Allen added a RBI single to set the final score.
Austin Peay reliever A.J. Gaura, who entered with the tying run at first base in the ninth inning, recorded the game's final out for his season's fourth save.
Massoni, Smith and Copeland each had two hits and two RBI to lead the Govs 12-hit offensive attack. Hamilton went 1-for-2 with three RBI. Left fielder Cayce Bredlau also had a home run as part of his 2-for-5 outing.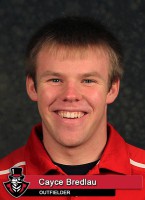 Tennessee Tech reliever Trevor Malone (2-1) was tagged for the loss after allowing five runs (four earned) on five hits in 2.1 innings. He came on in relief of starter Travis Moths who allowed five runs on five hits in 2.2 innings.
Flick paced the Golden Eagles with a 3-for-5, two RBI outing at the plate. Catcher Jordan Hopkins went 2-for-5 with three RBI.
Austin Peay begins a four-game Easter Week road trip with a 6:00pm, Tuesday contest at Middle Tennessee.
Box Score
Tennessee Tech (10-16 / 4-8) -vs- Austin Peay (14-10 / 8-4)
| | 1 | 2 | 3 | 4 | 5 | 6 | 7 | 8 | 9 | R | H | E |
| --- | --- | --- | --- | --- | --- | --- | --- | --- | --- | --- | --- | --- |
| Tennessee Tech | 0 | 0 | 5 | 0 | 0 | 2 | 0 | 0 | 3 | 10 | 15 | 1 |
| Austin Peay | 2 | 0 | 3 | 0 | 5 | 0 | 2 | 0 | X | 12 | 12 | 1 |
W: POWELL, Caleb (4-0)     L: MALONEY, Trevor (2-1)   S:GAURA, A.J. (4)
Tennessee Tech 10
| | Player | AB | R | H | RBI | BB | SO | LOB |
| --- | --- | --- | --- | --- | --- | --- | --- | --- |
| cf | ALLEN, David | 5 | 1 | 2 | 1 | 0 | 2 | 0 |
| lf | BRAZELTON, Tyler | 6 | 1 | 3 | 0 | 0 | 0 | 2 |
| ss | BOSHEERS, Dylan | 5 | 2 | 1 | 0 | 0 | 1 | 1 |
| 1b | CHAMBERS, Chase | 5 | 0 | 1 | 2 | 0 | 2 | 2 |
| dh | FLICK, Ryan | 5 | 2 | 3 | 2 | 0 | 0 | 1 |
| c | HOPKINS, Jordan | 5 | 1 | 2 | 3 | 0 | 0 | 0 |
| rf | EL CHIBANI, Anthony | 3 | 1 | 0 | 0 | 2 | 2 | 0 |
| 2b | PUTZIG, Trevor | 5 | 1 | 2 | 1 | 0 | 0 | 2 |
| 3b | PANKRATZ, Josh | 4 | 1 | 1 | 1 | 0 | 1 | 2 |
| ph | REED, Adam | 0 | 0 | 0 | 0 | 1 | 0 | 0 |
| pr | CONTRERAS, Andrew | 0 | 0 | 0 | 0 | 0 | 0 | 0 |
| p | MOTHS, Travis | 0 | 0 | 0 | 0 | 0 | 0 | 0 |
| p | MALONEY, Trevor | 0 | 0 | 0 | 0 | 0 | 0 | 0 |
| p | SLOAN, Cain | 0 | 0 | 0 | 0 | 0 | 0 | 0 |
| p | GODWIN, Kyle | 0 | 0 | 0 | 0 | 0 | 0 | 0 |
| | Totals | 43 | 10 | 15 | 10 | 3 | 8 | 10 |

Batting
2B:CHAMBERS, Chase (1); PUTZIG, Trevor (1)
HR:FLICK, Ryan (1); HOPKINS, Jordan (1); PANKRATZ, Josh (1)
Baserunning
HBP:ALLEN, David (1)
Fielding
E:PUTZIG, Trevor (1)
Austin Peay 12
| | Player | AB | R | H | RBI | BB | SO | LOB |
| --- | --- | --- | --- | --- | --- | --- | --- | --- |
| dh | MASSONI, Patrick | 5 | 1 | 2 | 2 | 0 | 0 | 0 |
| lf | BREDLAU, Cayce | 5 | 2 | 2 | 1 | 0 | 1 | 0 |
| 3b | GRAY, Logan | 4 | 1 | 1 | 0 | 0 | 2 | 0 |
| c | SMITH, Ridge | 5 | 2 | 2 | 2 | 0 | 1 | 0 |
| 2b | COPELAND, Garrett | 4 | 2 | 2 | 2 | 1 | 1 | 0 |
| rf | WILSON, Josh | 3 | 0 | 1 | 0 | 0 | 1 | 0 |
| ss | ROBLES, Alex | 3 | 1 | 0 | 0 | 2 | 0 | 2 |
| 1b | GLEASON, Dre | 3 | 1 | 1 | 1 | 1 | 0 | 0 |
| cf | WILLIS, Imani | 1 | 0 | 0 | 0 | 0 | 1 | 1 |
| ph | SMITHSON, Clayton | 1 | 0 | 0 | 0 | 0 | 1 | 3 |
| cf | HAMILTON, Chase | 2 | 2 | 1 | 3 | 1 | 0 | 3 |
| p | PRIMASING, Levi | 0 | 0 | 0 | 0 | 0 | 0 | 0 |
| p | WALTON, Zach | 0 | 0 | 0 | 0 | 0 | 0 | 0 |
| p | NEFF, Zach | 0 | 0 | 0 | 0 | 0 | 0 | 0 |
| p | KIMBEL, Keirce | 0 | 0 | 0 | 0 | 0 | 0 | 0 |
| p | GAURA, A.J. | 0 | 0 | 0 | 0 | 0 | 0 | 0 |
| | Totals | 36 | 12 | 12 | 11 | 5 | 8 | 9 |

Batting
2B:COPELAND, Garrett (1); WILSON, Josh (1)
HR:MASSONI, Patrick (1); BREDLAU, Cayce (1); SMITH, Ridge (2); HAMILTON, Chase (1)
Baserunning
SB:GRAY, Logan (1); WILSON, Josh (1)
HBP:GRAY, Logan (1); WILSON, Josh (2); GLEASON, Dre (1)
Fielding
E:ROBLES, Alex (1)