Clarksville, TN – This Saturday morning, April 25th, 2015 at 6:45am, the Clarksville Police Department was dispatched to a stabbing that occurred on Summer Street in the Lincoln Homes area.
The victim, 49-year-old Clarksville resident Tommy Bush, was transported to Vanderbilt University Medical Center with non-life threatening injuries.
The suspect, 32-year-old Clarksville resident Claude Powers, was apprehended soon after the stabbing occurred and was booked into Montgomery County Jail.
He was charged with Aggravated Assault with a total bond amount of $25,000.
If anyone has any new information related to this incident, please call CPD Detective Vince Duke at 931.648.0656 Ext. 5438.
Claude Powers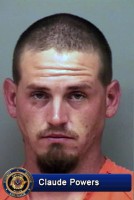 Name: Claude Powers
Date of Birth: 11/ 13/ 82
Gender: M
Race: W
Address: 37 Summer Street, Clarksville, TN
Arresting Officer: Cassandra Vergason
Charge With: Aggravated Assault
Booked Into: Montgomery County Jail
Bond: $25,000.00