Montgomery County, TN – The Montgomery County Sheriff's Office is seeking victims in a scam that was perpetrated by two arrested Wednesday.
Jonathan Stults, 23, who gave a 524 Cedar Valley address and Briana Staraugh, 23, who both gave a 524 Cedar Valley address were booked into the Montgomery County Jail on charges of theft of service. Their bond was set at $10,000.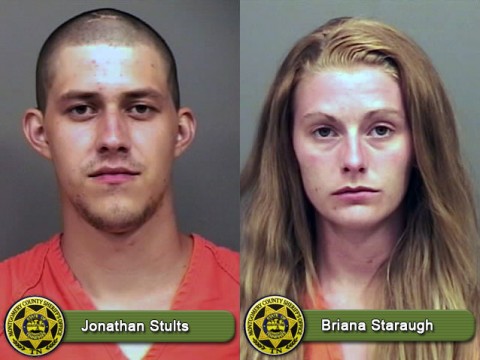 The defendants had been posting ads on Craigslist about a possible job offering a 55-hour work week and above-average wages, but when victims contacted them, they would claim the victims needed to take an OSHA class which they must pay cash for up front.
In the most recent case, the two charged several victims $65.00 and told them to show up at an address for the class. They did, but found that the address was incorrect.
"The victims got together and decided they weren't going to let them get away with it," said Investigator Geoff Blanchard. "They contacted the defendants from a different number and met them (Wednesday) at a local business."
Once there, the victims confronted the two and the MCSO then apprehended them.
"We found that several have fallen victim to this, not only recently, but up to a year ago," Blanchard said. "Anyone who may have been a victim needs to contact us immediately."
Those who may have been victimized by these two should call Blanchard at 931.648.0611, ext. 13408.
Jonathan Stults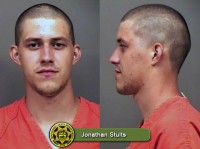 Name: Jonathan Stults
Date of Birth: 12/ 17/ 91
Gender: M
Race: W
Address: 524 Cedar Valley, Clarksville, TN
Arresting Officer: Geoffrey Blanchard
Charged With: Theft of Service
Booked Into: Montgomery County Jail
Bond: $10,000.00
Briana Staraugh
Name: Briana Staraugh
Date of Birth: 4/ 1/ 92
Gender: F
Race: W
Address: 524 Cedar Valley, Clarksville, TN
Arresting Officer: Geoffrey Blanchard
Charged With: Theft of Service
Booked Into: Montgomery County Jail
Bond: $10,000.00