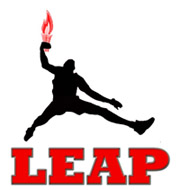 Clarksville, TN – New York City was the destination for the LEAP Organization's 5th Annual Education Excursion. Youth from Clarksville along with chaperones and community members embarked on a four day journey to New York to educate LEAP youth by exposing them to other cities, their cultural differences and historical landmarks.

Places that were visited included the 911 Tribute Center and Memorial Center, Rockefeller Center/Top of the Rock, Empire State Building, Statue of Liberty, Luna Park Coney Island, Madison Square Garden, and Madame Tussauds Celebrity Wax Museum in addition to several museums and sight-seeing cruises.

On the way to New York the LEAP group had another adventure, the bus broke down.  This unplanned adventure taught the group how to remain calm, and what to do when things happen that were not in the original plan.  After a minor setback, the trip continued as planned.

"Although we missed day one of activities because of the bus issue, I still had a good time. The down time gave us an opportunity to get to know each other better and I think that helped us enjoy all the fun moments of the trip even more. I definitely made some good friends!" commented LEAP participant Rebecca Corbin.

As with all LEAP educational excursions, students participated in break out mentoring sessions where the boys and girls were separated in to groups to discuss relevant issues.  Many topics were covered and several of the youth expressed what they learned.

"I have a whole new respect for Mr. Reason. He kept it real with us on the consequences for living in the moment and wouldn't accept excuses for why we couldn't start today with creating short term goals while figuring out what we want to do later in life," expressed Tyler Johnson.

"What stood out to me was Mr. Reason saying 'Take the word TRY out of your vocabulary because Trying is just an excuse for failure. His sister, Ruby even came in the middle of the session and really challenged us," added Jordan Thompson.

"I learned that minimum experience plus minimal education equals minimum wage. I want so much more out of life for myself than that. As a high school senior I wish I would have prepared more. I'm determined though to use my time wisely," shared Andrew Abren.

One of the things LEAP did differently this year was open the Educational Excursion up to adults in the community wishing to take advantage of the affordable get away. This enabled LEAP to offset the cost to make it affordable for over 30 youth to participate.

Many participants had their favorite moments of the trip.

"One of my favorite parts of the trip was getting a chance to tour all those tall buildings and learn about what it took to build them. It took a lot of determination, courage, and teamwork to build the Empire State Building during the Great Recession. That showed me that anything is possible with the right people working together," reflected LEAP Youth Leadership Council President, Joseph Harding.

"Just want to thank Laquvia Garrett, Richard Reason Garrett and the Leap organization for allowing my wife and me to tag along with them as they took a group of kids to New York City. The trip was very well planned and a wonderful experience and I got to see a lot of once-in-a-lifetime things," stated Ron Barbour.

"We loved every bit of it! Believe it or not, one of my highlights of the trip happened when the bus broke down and Richard and Laquvia handled that initial set back wonderfully, and set a great example for the kids! My hat's off to you for helping the Leap kids experience life outside of Clarksville," said Barbour.

Lenise Abren who was another guest participant expressed her appreciation. "A big shout out to Richard Reason Garrett and Laquvia Garrett for this outstanding trip that was well put together and enjoyable! We got to meet some great people on top of that. May God continue to bless you both abundantly as well as the LEAP Organization. Job well done!"

On the ride home, based on feedback from the majority of the kids, four members of the LEAP Youth Leadership Council determined that next year's trip would be Miami, Florida. Over the course of the next 30 days, the students will be tasked with planning and organizing the next Educational Excursion.

For more information about LEAP call 931.614.0440 or visit www.leaporg.net



About Lois Jones
Lois Jones is the Associate Director of Career Services at Miller-Motte Technical College, photojournalist, and instructor of Beginning Digital Photography for Austin Peay State University's Community School of the Arts.

A graduate of Austin Peay, she worked as a photojournalist, writer and Photo Editor for the University newspaper "The All State," for nine semesters.

During her time at APSU, she competed and won in the Southeast Journalism Conference (SEJC) two times and placed fifth in her first competition and then third in her second. SEJC ranks all the Colleges and Universities journalists and recognizes the top 10 in each field in the entire Southeast region. To be awarded fifth and then third overall for "Best Press Photographer" for the regional Colleges and Universities is truly an honor and speaks to her ability.

She has been working as a freelance photojournalist for over seven years to include The Leaf Chronicle, Clarksville Online, Austin Peay and several other papers. Lois also undertakes independent jobs when requested. Hired for a PR campaign, "Mowers for Military Families" by Lawnboy Lawn Mowers, her photo for the campaign ran in many print venues and was displayed on the Reuters board in the middle of Times Square.
Sections
News
Topics
911 Tribute Center, Andrew Abren, Clarksville TN, Empire State Building, Jordan Thompson, Joseph Harding, Laquvia Garrett, LEAP Education Excursion, leap organization, Lenise Abren, Luna Park Coney Island, Madame Tussauds Celebrity Wax Museum, Madison Square Garden, Miami FL, New York City NY, Rebecca Corbin, Richard "Reason" Garrett, Rockefeller Center, Ron Barbour, Statue of Liberty, Tyler Johnson