Written by Sgt. Jacob Mahaffey
5th Special Forces Group (Airborne) Public Affairs Office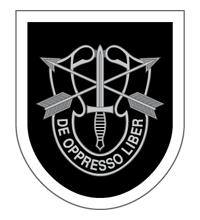 Fort Campbell, KY – Soldiers, family members and friends gathered together on Gabriel Field, Fort Campbell, Kentucky, July 16th, 2015, for the 5th Special Forces Group (Airborne) change of command ceremony.
Col. John W. Brennan commanded the 5th SFG (A) from August 2013 until today as he passed the Group's colors to Col. Kevin C. Leahy. The passing of the colors is an Army tradition symbolizing the passing of responsibility from one commander to another.
Brig. Gen. Darsie D. Rogers, the commanding general of 1st Special Forces Command (Airborne) (Provisional), hosted the ceremony and shared with the audience his personal observations about the two commanders and the Soldiers and families, past and present, of 5th Special Forces Group.
"It is my honor to be here today, thank you for joining us to bid farewell to Colonel Brennan and welcome Colonel Leahy as the 5th Special Forces Group commander," said Rogers.

"Under the command of Colonel Brennan, 5th Group set the standard in every measurable way possible," Rogers continued. "These Soldiers standing in front of you represent the best of our best. They are highly intelligent, extremely savvy and masters of the art of influence. These traits are directly contributed to the leadership, mentorship and coaching of Colonel John Brennan and his command team."
"We are proud of you, your command team, and the Legion for its magnificent performance," said Rogers.
After his powerful words on the accomplishments of Brennan, Rogers spoke about how he personally served with Leahy in and out of combat, and welcomed him home.
"Colonel Leahy, you bring a wealth of knowledge and experience. I have seen you in action and you are the right guy to lead this Group and we are glad to have you back," said Rogers.
Stepping back from the podium, Rogers and Brennan shared a few words and a hand shake before Brennan spoke to the crowd.
"Thank you everyone for attending, but without a doubt, the most honored guests here today are those standing on Gabriel Field in front of me, celebrating them and their incredible achievements is why we are here," said Brennan.
After a few moments of clapping and cheering for the Soldiers on the field, Brennan continued with his speech.
"You are the reason I get up and go to work every morning, I never stop thinking about ways to make your jobs easier and to help you be more effective on the battle field. I am extremely proud of you, and it has been my greatest honor and privilege to serve as your Commander and carry the title of Legion 6 for the last two years," said Brennan.
"It has been simply amazing and gratifying to work alongside of you and I am very proud of each and every one of you for your immense contributions to our national security," expressed Brennan. "You give hope to the hopeless; you have freed the enslaved and brought training and skill to the unskilled so they may help themselves in their own countries."
Brennan ended his speech by thanking everyone he had served with during his time as Legion 6, but had a special request to the crowd.
"Let us not forget those who are at this very moment currently overseas doing our Nation's bidding to keep us all safe, please keep them and their families in your thoughts and prayers."
Leahy spoke last at the ceremony. "It is always an honor to stand here on Gabriel Field, surrounded by the trees memorializing our fallen. It is a great reminder for me as the sacrifices made by the Soldiers of this Group and the incredible responsibility I have been given to command this organization."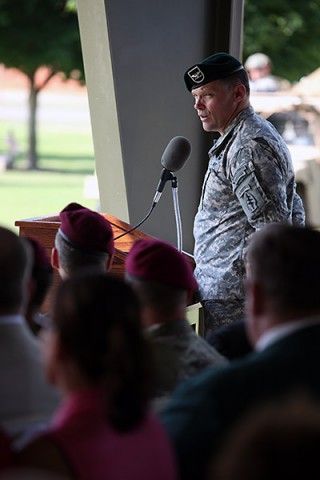 Leahy is no stranger to the unit or Fort Campbell. Having been stationed at Fort Campbell five times now, he knows the post and the Legion very well. Leahy served as a Special Forces Operational Detachment Alpha commander, company commander and battalion commander for the Legion.
"Colonel Brennan's leadership has taken 5th Group to a new level and most importantly made life very difficult for our country's enemies," said Leahy. "John (Brennan), your impact will be long felt by 5th Group. To the Soldiers of 5th Group, I am honored once again to stand amongst you as part of this great organization. All command policies remain in effect, de oppresso liber,"