Austin Peay Sports Information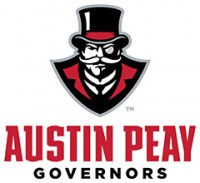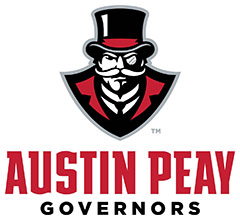 Clarksville, TN – Ryan Ivey, a rising star among college athletic administrators, was named the new director of athletics at Austin Peay State University during a Tuesday afternoon press conference.
In his previous position as Texas A&M University-Commerce athletics director, Ivey was credited with helping transform a low-ranked Division II program into a Lone Star Conference (LSC) powerhouse. Last year alone, the Lions won a school record six conference championships in both men and women's sports, including football, basketball and women's soccer.
APSU began searching for its 13th Athletics Director in April when Derek van der Merwe was promoted from that position to vice president of Advancement, Communications and Strategic Initiatives.
After an extensive national search, which resulted in four finalists visiting campus for interviews, Ivey was selected to lead APSU's athletics department.
"In the last few years, we've seen a lot of momentum within our athletics programs, and the hiring of Ryan Ivey will continue this exciting trajectory for our fans," APSU President Alisa White said. "Ryan knows how to build winning teams, but what really excites me is his concern for student-athletes. While at Texas A&M-Commerce, he developed a mentoring program to help improve his players' personal and professional skills."
Fast Facts:
> Led TEXAS A&M-Commerce to a university-record six lone star conference titles in 2015
> Lions had 35 All-Americans and two Division II National Players of the Year in 2015
> Increased private giving by 464 percent, including the largest single-year gift in TAMUC history
"I am extremely humbled and honored about being selected as the next Athletics Director for Austin Peay," said the 34-year-old Ivey said. "I would like to thank Dr. White, the search committee and the entire Governor family in their trust and faith in me as we move the athletics department into the future.  It is an opportunity that I do not take for granted and one that I will work hard every day to ensure we are moving forward. "
Ivey, a native of Mayfield, Kentucky, arrived at Texas A&M-Commerce in January 2013 to take over a program in trouble. After years of losing seasons in several sports, the Lions' fans and alumni had pretty much abandoned the department. Ivey quickly made a series of strategic hires, and he issued a mandate that coaches were not only expected to win, but to mold their players into responsible students and respectful community citizens.
An article titled "The Dramatic Turnaround and Revival of Texas A&M-Commerce Football…and sports," which appeared on the popular Texas sports website, Smoaky.com, reported Ivey presented his simple philosophy to all student-athletes, stating, "Behave yourself. Stay out of trouble, be a good citizen, do well in the classroom, graduate and leave Commerce better than when you arrived. That was the point of being a student-athlete."
This philosophy apparently resonated with coaches and students. In addition to the six conference championships in 2015, the Lions had two National Players of the Year, 35 All-Americans, 58 All-Regional Selections, 69 All-Conference players, 11 LSC Players of the Year, 11 National All-Academic athletes, 14 LSC All-Academic athletes, two LSC Team Academic Champions, a State Coach of the Year, two Regional Coaches of the Year and a Regional Assistant Coach of the Year.
In Ivey's first year as athletics director, Texas A&M-Commerce was ranked 182 in Division II in the Learfield Director's Cup Standing. In his second year, the program jumped nearly 100 spots to rank 89 out of 252 Division II schools. The Learfield Director's Cup is a program that honors institutions maintaining a broad-based program, achieving success in both men and women's sports.
Ivey began his athletic career in 2002 as a student-athlete, playing four years as the punter and holder for the University of Memphis football team—he was the holder for Lou Groza finalist Steve Gostowski, currently the kicker for the Super Bowl champion New England Patriots.
He earned a bachelor's degree in sports management and his master's degree in sports and leisure commerce from that university. He would go on to serve as a Stadium Operations Assistant for the Memphis Redbirds minor league baseball team and as Director of Operations for the University of Memphis women's basketball team.
In 2007, he joined McNeese State University as assistant director of athletics. In that position, he increased corporate sponsorship revenue by 36 percent, and he led two different marketing campaigns that resulted in a 19 percent increase in football season ticket sales.
In 2010, he was named associate director of athletics, where he was responsible for the daily operations of 16 athletic programs while continuing to grow its corporate sponsorship revenue. At McNeese, he authored a revenue generating master plan for the athletics department, and he led an initiative that saw the women's basketball team have one of the largest NCAA attendance increases during the 2010-11 season.
"Austin Peay has made a tremendous hire in Ryan," said Tommy McClelland, former McNeese State Athletics Director who now holds the same position at Louisiana Tech. "I've known Ryan for nearly a decade and he is a rising star in intercollegiate athletics administration. As a former student-athlete himself, he understands how best to support the athletic and academic needs of today's student-athletes. This, along with his ability to lead with a high level of integrity and character, will help take Austin Peay athletics to new heights. Ryan is a great administrator, but an even better person."
Ivey's success quickly came to the attention of Texas A&M-Commerce—a program in need of new leadership. In two years, he helped transform that department into one of the top athletic programs in the conference. But Ivey wanted to return to Tennessee, to be near his family in Kentucky, as well as his wife's family in East Tennessee.
He needed to find a program that fit him, and he watched as the momentum continued to build at Austin Peay with the opening of a new football stadium, the installation a new basketball scoreboard and the adoption of a new athletic brand identity in 2014.
"What attracted me was the growth potential here, seeing the things already established through Derek's tenure, and knowing how to build upon that success," said Ivey, who is expected to begin his duties August 24. "The football stadium is fantastic. What excites me the most is the opportunity to work with the great coaches, the great staff and the great student-athletes."
His wife, Kelley, and his two sons, Jett and Ace, will join Ivey in Clarksville, TN.