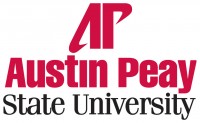 Clarksville, TN – Anyone with a smartphone or internet-connected device can now get real time information about Austin Peay State University's Peay Pick Up trolley system through the University's Peay Mobile 4.0 app.
Developed by APSU students, the new feature can show the trolley's location around the University campus, with the position updated every 15 seconds. The feature is accessible in APSU's new Peay Mobile 4.0 app, which was redesigned in June.
AP Mobile 4.0 is free and can be downloaded by visiting www.apsu.edu/mobile
"As the campus continues to grow and parking becomes more of an issue, (the University) really envisioned the trolley becoming more and more important," Mike Wilson, director of the GIS Center at Austin Peay State University, said. "It was really impressive how much work and thought our students put into making this solution work."
The program was lead by APSU GIS Center student workers, including Ken Hanley, Jordan Taylor and Jared Cleghorn. Fellow APSU students Logan Varney and Daniel Rumfelt also assisted on the program, which began work over the summer.
Arthur Bing, City of Clarksville Director of Transportation, said the new program would allow users a previously unavailable level of convenience.
"We've had software for years that let us know where our vehicles are at all times, but we've never had anything like an app that our customers could use to figure out where (the trolley) is," Bing said. "When APSU decided to take on this program, we thought it was an excellent idea and something that could be helpful to all of the students that use (the trolley)."
Peay Pick Up offers students, faculty and staff free transportation around campus via the trolley and Clarksville Transit Authority (CTS) buses. CTS runs the Peay Pickup from 7:30am – 4:30pm around the perimeter of campus Monday through Friday. To ride the Peay Pickup and CTS buses, show the driver your Peay Pickup card and APSU ID.
For more information on the GIS Center at APSU, visit www.apsugis.org