Austin Peay Sports Information

Clarksville, TN – Led by a singles championship victory by freshman Lidia Yanes Garcia, Austin Peay State University women's tennis team produced positive results in its annual APSU Fall Invitational, featuring Belmont, Lipscomb and UT Martin, Friday and Saturday.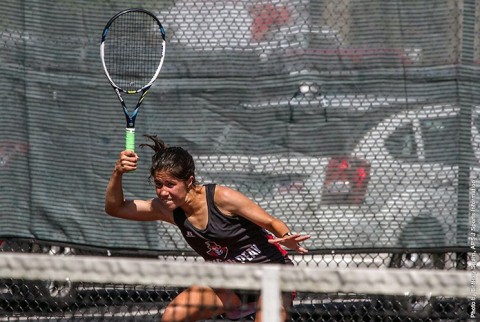 Garcia, who went 3-0 last weekend at the Skyhawk Invitational, maintained her unblemished record by going 4-0 on her home court.
After reaching the semifinals of the bracket-style event, Garcia topped Sarah Candeloro of UT Martin to reach the Flight 1 championship match.
There, she met another Skyhawk, Hitomi Naito, who Garcia would go on to defeat, 2-6, 6-4, 10-1.
Her twin sister, Claudia Yanes Garcia, also competed in the same group. After receiving a first round bye, she advanced to the semifinals after knocking off UTM's Andrea Plantada, 6-2, 6-4. However, she was then eliminated by Naito, 6-1, 6-1.
In Flight 2, sophomore Brittney Covington and junior Isabela Jovanovic combined to win two singles matches.
Covington defeated Belmont's Jenna Krakau, 6-3, 6-4, before falling to Assel Jumamukhambetova, of UT Martin, 7-6, 6-0.
Meanwhile, Jovanovic earned a first round bye before dropping a second round match to UTM's Elina Geut, 6-2, 6-0. However, the Brazilian would later capture a win in an extra match against Belmont's Abbie Mather, 2-6, 7-5, 10-4.
In doubles action, both pairings improved on its previous results to go a combined 4-2 on the weekend. Lidia and Covington made a run towards the semifinals after defeating Belmont's Lindsay Whitehead and Kendall Warren in the second round, 8-5. Then, the duo was beaten by Candeloro and Jemima Potter, of UT Martin, 8-3.
Claudia and Jovanovic advanced to the second round after an 8-1 win over Skyhawk pairing Geut and Haya Hamed before bowing out after a loss to Whitehead and Warren, 8-5.
Along with the Flight 1 singles title won by Lidia, the Flight 2 championship was claimed by Jumamukhambetova, while Candeloro/Potter took home the doubles trophy.
The Lady Govs will return to action at next weekend's Lipscomb Invitational.