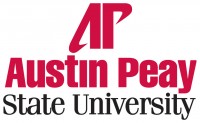 Clarksville, TN – This October, the L Gallery in downtown Nashville will present works by Austin Peay State University art and design faculty and students as part of a multi-discipline exhibit, titled "The One and the Many."
The exhibit, curated by APSU student Sara Straussberger, will open with a reception from 6:00pm-9:00pm on October 3rd at the gallery, in space 72 of The Arcade in Nashville.
"The One and the Many" will incorporate a variety of different media, including photo sculptures by Amber Briggs, APSU student; a large ink drawing by Crowma, APSU student; an installation using found objects by Sophia Eisenbart, APSU student; collages by APSU students Christy Gordon and Steven Walker and by Billy Renkl, APSU professor of art; a projection by Barry Jones, chair of the Department of Art and Design; paintings by Suta Lee, APSU associate professor of art; and prints and sculptures by Cindy Marsh, APSU professor of art.
The show is made possible through the generous support of APSU's Faculty Senate Student Academic Success Initiative Award Program.