Austin Peay (0-8, 0-5) at Tennessee State (3-4, 0-4)
Saturday, October 31st, 2015 | 2:00pm
Nashville, TN | William J. Hale Stadium

Clarksville, TN – Down I-24 goes the Austin Peay State University football team this weekend, set for a 2:00pm, Saturday, start at Hale Stadium against Tennessee State.
The Govs (0-8, 0-5 OVC) and Tigers (3-4, 0-4 OVC) enter play as the only two OVC teams still seeking a conference victory, although Austin Peay's motivations run deeper—the Governors seek to put an end to their Division I-high 35-game road losing streak, which stretches back to their 2010 meeting with Tennessee State at then-LP Field (now Nissan Stadium).
A win also would secure their first victory in the Alvin C. York series since 2012. However, that is the only road victory for Austin Peay in eight contests in Nashville—the Governors still seek their first-ever victory at 'The Hole'.
It will be defense that carries the Governors, and it's a defense that rose to the occasion last week against Jacksonville State. In a 27-7 loss, the Governors ended a 13-quarter scoring streak for the nation's top team and shut out the Gamecocks after halftime—the first time Jacksonville State has been shut out in the second half since the 2014 FCS playoffs against Sam Houston State.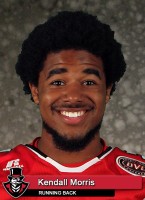 Nicholis Matiere-Bey (7.0 tackles for loss) and Roderick Owens (eight pass break-ups) lead the defense, but an elusive offensive identity has hurt the Governors this season.
Kendall Morris' 436 rushing yards are sixth-best in the conference, but he has been limited to six carries for 11 yards in his last two games due to nagging injuries. The Governors air attack has been stagnant as well, with only one APSU quarterback breaking the century mark in passing yards since the season's third week (Trey Taylor, 104 yards, at Murray State).
The Tigers struggling ground game (3.3 ypc as a team) is buffeted by two solid quarterbacks in Ronald Butler (813 yards, 8 touchdowns) and O'Shay Ackerman-Carter (57.1 completion percentage, 5/2 TD/INT ratio).
Ackerman-Carter has missed time this season due to injury but was the STATS FCS National Freshman of the Week after his Week Two performance against Jackson State.
As a team, Tennessee State has a nose for the ball—the Tigers have lost just one fumble on the season (tops in the conference and third nationally) and have recovered seven fumbles by opponents, second-most in the OVC. And despite their issues running the ball, the Tigers 32:47 average time of possession mark leads the conference and ranks 18th nationally.
Scouting the Tennessee State Tigers
Regardless of who lines up under center—Ackerman-Carter has taken snaps this week and appears to be set to play Saturday—the No. 1 receiving option is Patrick Smith. The sophomore from Memphis leads Tennessee State with 35 catches for 656 yards and seven touchdowns, the 10th-best single-season mark in TSU history—and the Tigers still have four games to play.
Rodney Edwards serves as Tennessee State's answer to Matiere-Bey on defense. The defensive tackle from Gadsden, Alabama has 31 tackles (8.0 TFL) and a pair of fumble recoveries, tops in the OVC.
Last Time Out Against Tennessee State
Despite losing four timeouts after wearing camouflage jerseys with the nicknames of each Fort Campbell unit across the back—an NCAA violation—Austin Peay entered the fourth quarter with a 20-9 lead but couldn't hold on as the Tigers stormed back with 22 fourth-quarter points, leading to a 31-27 comeback win for the visitors in last season's Homecoming contest at Governors Stadium.
Taylor's decent passing day (8-of-17, 104 yards, 1 TD) was buoyed by another 14 carries for 49 yards and a score. His touchdown toss was to Rashaan Coleman, who finished with five catches for 54 yards and a score.
Defensively, the Govs were led by Antonio Turner (14 tackles, 1.5 for loss) and Adam Noble (12 tackles, 0.5 for loss) at linebacker, while Kyran Moore came up with two big fumble recoveries.
Keep An Eye On
The Governors look for a bounce-back offensive performance after being held to 82 total yards last week against Jacksonville State—the lowest single-game output by an OVC squad since 2009.
Austin Peay has allowed 202 total first downs (25.3/game), 122nd nationally, but Tennessee State has just 121 as a team (17.3/game), a figure ranking them 90th.
Austin Peay ranks second in the OVC in fewest penalties (5.38) and penalty yards (40.25) per game; the Tigers are eighth in penalties (8.71) and ninth in penalty yards (78.57).
After a stretch in its schedule that featured four of the league's five best rushing offenses in four of the last five weeks, the Governors get a reprieve against the Tigers, whose 117.3 ypg average ranks eighth in the league.
The Governors did not have a kick blocked last week against Jacksonville State—just the second game this season an opponent has not blocked at least one kick or punt by Austin Peay. Tennessee State has just one blocked kick this season, by David Kamara two weeks ago against Eastern Illinois.
The Tigers have allowed 12.79 yards per punt return on 14 attempts, which should allow the Govs to improve upon their 3.67 yards per return average.
Austin Peay's pass rush could cause problems for a TSU line that's allowing 2.0 sacks per game this season (eighth in the OVC) and has allowed multiple sacks in four of its last five contests.
If Butler lines up under center, expect the Tigers to air it out a little more. He leads the OVC in yards per completion (13.11 ypc).
Video
Head coach Kirby Cannon and Van Stokes preview the Govs trip to Tennessee State, Saturday.
APSU Govs Online
Check back at www.LetsGoPeay.com and on Austin Peay's Official Athletics Facebook page often for up-to-date news about all Governor athletics, as well as the Governors football Twitter page (@AustinPeayFB). Live stats will be available during the game at www.LetsGoPeay.com and all home games and Ohio Valley Conference games can be viewed on www.ovcdigitalnetwork.com
Postgame video interviews and other videos from around APSU Athletics can be found on our YouTube page (www.youtube.com/CultureofExcellence).