Austin Peay at Wright State
Saturday, November 21st, 2015| 1:00pm CT
Dayton, OH | Nutter Center

Dayton, OH – Austin Peay State University women's basketball team seeks to bounce back from a road-trip opening loss when it plays Game 2 of the five-day road trip – a 1:00pm (CT), Saturday contest against Wright State the Nutter Center.
The Govs opened the road trip with a 75-60 loss at Miami University, Thursday.
Austin Peay got off to a cold start offensively and could not rebound from the early deficit despite an improved performance in the game's final 15 minutes. The loss leveled the Govs season record at 2-2, but also kept it from posting its first win against a Division I opponent this season.
Senior guard Tiasha Gray finished with 18 points despite an off shooting night (33 percent). However, the Clarksville native became Austin Peay's career steals leader with a three-steal performance pushing her to 244 career steals. That broke the program's 25-year old record of 243 career steals held by Tracie Mason-Blair.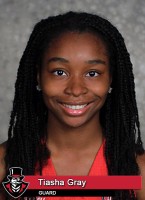 Austin Peay was able to put together a opportunistic defensive performance against the RedHawks, recording 16 steals as MU committed 26 turnovers. The Govs scored 27 points off those giveaways, including 18 points on 11 second-half miscues.
Saturday's game is the second-half of a home-and-home set with Wright State. The Govs dropped an 85-73 decision in Clarksville last season. Gray poured in a career-high 37 points, making 11-of-23 from the floor. Wright State won despite losing Kim Demmings in the game's opening moments as Tay'ler Mingo scored 20 points and Brenna Stucke chipped in a 13-point, 12-rebound double-double.
The More You Know
Gray Milestone Watch Starts
Senior guard Tiasha Gray began the 2015-16 season within reach of the following Austin Peay milestones:
APSU Career Steals | Currently 1st (244) | Previous Record: 243 by Tracie Mason-Blair (1987-91)
APSU Career Points | Currently 7th (1,371) | Next: 1,442 by Amanda Behrenbrinker (1994-98)
APSU Career Assists | Currently 5th (381) | Next: 387 by Ashley Haynes (2002-06)
Midlick Musings
The biggest story line during the Austin Peay offseason was the hiring of
David Midlick
as the program's 15th head coach. He is a familiar face to Austin Peay fans, returning to Clarksville after previous stints as a men's basketball graduate assistant (2003-06) and women's basketball assistant coach (2010-12).
Midlick was involved in the recruiting for the current senior class, but did not have the opportunity to coach them, departing to become head coach at Delta State in 2012.
APSU Lady Govs Ledger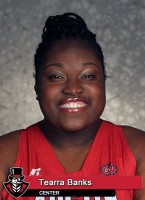 Midlick inherits an Austin Peay women's basketball team largely unchanged from its 2014-15 edition. Four starters and 11 letterwinners return from a team that posted the program's best record since 2010-11.
Senior guard Tiasha Gray highlights the returning group after earning Ohio Valley Conference Defensive Player of the Year honors last season.
Also returning are junior Tearra Banks, sophomore Brianne Alexander, senior Jennifer Nwokocha and junior Beth Rates – composing five of the team's top six in both scoring and rebounding.
About the Raiders
Wright State continues a three-game homestand with Saturday's contest. The Raiders opened the set with an impressive 92-65 victory against Lipscomb, Thursday, that saw WSU post a 59-38 rebounding spread.
Five WSU players reached double-digit scoring territory with two – Kim Demmings (27 pts/10 reb) and Riche van der Keijl (10 pts/11 reb) – posting double-doubles. It was Wright State's second straight win after picking up a 73-68 road victory against Kent State, Tuesday. Demmings is averaging nearly a double-double this season, her 26.7 points per game ranking sixth in Division I  while her 9.7 rebounds per game ranks 87th nationally.
Richelle van der Keijl ranks 25th in Division I, averaging 12.7 rebounds per game.
An Austin Peay Win Would
Be its first-ever victory against Wright State. End an 11-game losing streak in nonconference road games (last win November 12th, 2013 at Southern Illinois). Make head coach David Midlick 3-2 in his first season at Austin Peay and 48-18 in his third season as a head coach overall. Make the Govs 454-652 overall since 1976-77.
An Austin Peay Loss Would
Give it back-to-back losses for the first time this season. Keep it winless against Wright State (0-5). Be its 12th straight loss in nonconference road games. Make Midlick 2-3 in his first APSU season and 47-19 in his third season as a head coach over-all. Make the Govs 454-653 overall since 1976-77.
Broadcast Information
Radio • Governors Sports Network
Play-by-Play: Brian Rives
TV • ESPN3 (WatchESPN APP)
Play-by-Play: Scott Leo
Analyst: Justin Kinner
Lady Govs on the Web
Live Video: www.ESPN3.com
Live Audio: www.LetsGoPeay.com/Listen
Live Statistics: www.PeayStats.com