APSU Sports Information

Nashville, TN – In one of the greatest shooting performances in Austin Peay State University men's basketball history, Chris Horton connected on 16-of-17 shots in scoring a career-high 37 points as the Govs rallied for a 92-84 decision against Lipscomb, Sunday afternoon, at Allen Arena in Nashville, TN.

Horton's near-perfect shooting performance was the second-best in Govs' history—Ralph Garner went 10-for-10 against March 4th, 1977.

His only miss—after 14 straight makes—was when Lipscomb's J.J. Butler blocked a layup attempt from behind with 1:13 left.

Horton scored 22 of his points in the first half, going 9-of-9 from the floor. Despite his efforts the Govs trailed 47-39 at halftime as Lipscomb went 11-of-21 from three-point range. It also didn't help when sophomore guard Josh Robinson, who had one of the Govs' two first-half three pointers, had to sit for the half's final 15 minutes with foul woes.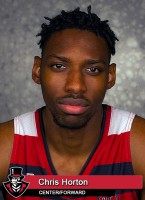 With Lipscomb concentrating on Horton in the second half, Robinson responded with 18 points, including a trio of three pointers. In fact, it was a Horton-to-Robinson pass that literally put the final dagger into the Bisons.
With APSU holding onto a five-point lead with a little more than three minutes left. Robinson missed a baseline jumper. But Horton tracked down the missed shot under the basket. With the shot clock winding down, he returned the ball to the 6-2 guard, who nailed the jumper to give APSU an 85-78 advantage with 2:58 left.
"Horton was just tremendous, I don't know what else to say," APSU coach Dave Loos said. "He obviously playing some very good basketball right now."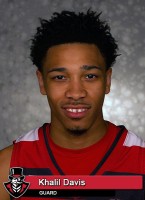 Lipscomb cut the deficit to four, 88-84, with 1:35 left but Khalil Davis, who had a career-high nine assists on the afternoon, found Horton for consecutive dunks to finish off the scoring.

The victory improved the Govs to 5-7 overall, ending the five-game road trip with a 2-3 mark. It also should give the Govs momentum as they return home for a six-game homestand.

Even though Lipscomb ended with 84 points, Loos believes it was the second-half defense that was the turning point. After the Bisons dissected the Govs from the perimeter in the first half, they went just 1-of-11 from behind the arc in the second half, shooting just 42 percent overall over the final 20 minutes.

"We challenged them at halftime about playing tougher on the defensive end," Loos said. "They missed some shots, but we did a much better job of fighting through screens in the second half and finding their shooters."

For a second consecutive game, the Governors got strong performances from a trio of freshmen, Jared Savage, Zach Glotta and Chris Porter-Bunton. Glotta had two second-half three pointers to help the Govs overcome a 10-point second-half deficit. Savage tipped in a missed shot to give APSU a 72-70 lead and after the two teams traded buckets—APSU's was a Horton dunk—the Bowling Green native nailed a long three-point to give APSU a seven-point, 79-72, lead with 6:39 left.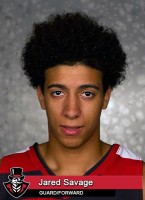 Savage finished with eight points and his six rebounds were second behind Horton's 13. Glotta ended with six points.
"This was a team win," Loos said. "We had a couple of guys who didn't have gaudy numbers really contribute. Glotta really played well in the second half; hit some shots and played better defense, and Savage made some really big shots for us."
"And Khalil was good. He really seemed to get in the flow and made some big plays on both ends of the floor."
The Govs finished the night shooting 59 percent (36 of 61) from the floor and holding a commanding 40-27 rebound advantage.
But the game mostly will be remembered for Horton's outstanding performance, his 10th double-double in 12 games. In scoring 37 points, it was the most by a Govs since Drake Reed had 37 against Eastern Illinois, December 6th, 2008.
The Governors are back on the court Tuesday, December 22nd, 2015 to host Wofford at the Dunn Center. Tip off is set for 7:00pm CT.
Box Score
Austin Peay (5-7) 92, Lipscomb (4-11) 84
| | 1 | 2 | Total |
| --- | --- | --- | --- |
| Austin Peay | 39 | 53 | 92 |
| Lipscomb | 47 | 37 | 84 |
Austin Peay 92
Player
FGM
-FGA
3FGM
-3FGA
FTM
-FTA
OFF
-DEF
TOT
PF
TP
A
TO
BLK
STL
MIN
Horton, Chris
16-17
0-0
5-8
4-9
13
2
37
2
5
1
1
36
Robinson, Josh
8-15
4-9
1-1
0-5
5
2
21
1
3
0
0
25
Davis, Khalil
5-9
0-2
4-7
0-2
2
2
14
9
2
0
2
34
Jones, Kenny
1-2
0-0
1-2
0-3
3
4
3
2
1
0
1
12
Thompson, Terrell
0-2
0-2
1-1
0-1
1
1
1
4
0
0
0
20
Savage, Jared
3-5
2-3
0-0
2-4
6
0
8
0
1
0
0
23
Glotta, Zach
2-3
2-3
0-0
0-1
1
3
6
1
2
0
1
18
Porter-Bunton, Chris
1-5
0-2
0-0
0-2
2
3
2
1
1
0
1
19
Murry, John
0-2
0-1
0-0
1-2
3
0
0
0
1
0
0
8
Diop, Assane
0-1
0-0
0-0
0-0
0
0
0
1
0
0
0
3
Ivory, Tre'
0-0
0-0
0-0
0-0
0
1
0
0
0
0
0
2
TEAM
0-0
0-0
0-0
3-1
4
0
0
0
0
0
0
0
Totals
36-61
8-22
12-19
10-30
40
18
92
21
16
1
6
200
Lipscomb 84
Player
FGM
-FGA
3FGM
-3FGA
FTM
-FTA
OFF
-DEF
TOT
PF
TP
A
TO
BLK
STL
MIN
Moran, Nathan
6-10
4-6
6-6
2-4
6
1
22
4
1
0
2
32
Hampton, J.C.
8-19
5-12
0-0
2-1
3
1
21
0
3
1
0
37
Pepper, Eli
6-10
0-3
3-5
2-5
7
5
15
1
2
1
0
20
Miller, Cam
3-5
1-1
2-2
0-3
3
1
9
3
0
0
2
37
Brammeier George
2-4
0-0
3-6
1-2
3
3
7
1
0
0
2
21
Butler,J.J.
2-3
1-2
0-0
0-1
1
2
5
3
1
1
0
17
Wishon, Brett
1-7
1-5
0-0
1-2
3
2
3
2
0
0
0
13
Mathews, Garrison
0-4
0-3
2-4
0-1
1
2
2
2
1
0
1
12
Smith, Charles
0-1
0-0
0-0
0-0
0
0
0
0
1
1
0
8
Duvall, Asa
0-0
0-0
0-0
0-0
0
1
0
0
0
0
0
3
TEAM
0-0
0-0
0-0
0-0
0
0
0
0
0
0
0
0
Totals
28-63
12-32
16-23
8-19
27
18
84
16
9
4
7
200
Sections
Sports
Topics
Allen Arena, APSU, APSU Athletics, APSU Basketball, APSU Dunn Center, APSU Men's Basketball, APSU Sports, Austin Peay State University, Bisons, Chris Horton, Chris Porter-Bunton, Dave Loos, Eastern Illinois, Governors, Govs, Jared Savage, Josh Robinson, Khalil Davis, Lipscomb, Nashville TN, Ohio Valley Conference, OVC, Ralph Garner, Wofford, Zach Glotta