Clarksville, TN – Investigators with the Montgomery County Sheriff's Office have charged a man and woman in connection with a string of burglaries in the county.
Joshua Lewis Cribbet, 30, and Julia Ann Allen, 34 were arrested Tuesday morning for burglary, fraud, and vandalism cases that occurred on December 27th, 2015 and January 11th, 2016 in the Woodlawn and Clarksville areas.
Authorities were led to the suspects based on tips received from a victim's home security video.
Cribbet and Allen were taken into custody without incident at their home in the 2300 block of Loupin Drive.
Cribbet has been charged with two counts of aggravated burglary, three counts of fraud, vehicle burglary, vandalism, and resisting. Charges stem from crimes that occurred on Oakland Road, Freedom Drive, and Cooper Creek Road. His bond has been set at $225,000.
Allen has been charged with four counts of fraud. Charges stem from a crime that occurred on Oakland Road. Her bond has been set at $4,000.
Joshua Cribbet
Name: Joshua Lewis Cribbet
Gender: M
Race: W
Address: Loupin Drive, APT 25C, Clarksville, TN
Arresting Officer: Geoffrey Blanchard
Charged With: Two counts of aggravated burglary, three counts of fraud, vehicle burglary, vandalism, and resisting
Booked Into: Montgomery County Jail
Bond: $225,000
Julia Allen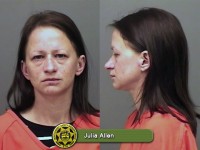 Name: Julia Ann Allen
Gender: F
Race: W
Address: Loupin Drive, Clarksville, TN
Arresting Officer: Jesse Hedrick
Charged With: Four counts of fraud
Booked Into: Montgomery County Jail
Bond: $4,000