Clarksville, TN – The scorching Tony-nominated musical revue "Blues in the Night" opens at the Roxy Regional Theatre tonight, Friday, February 5th, at 8:00pm. The universal language of the blues will wail out full and strong on the corner of Franklin and First in downtown Clarksville through February.
In keeping with the theatre's traditional pay-what-you-can preview, all tickets not pre-sold at the regular ticket price will go on sale at 7:30pm that evening for a $5.00 minimum donation.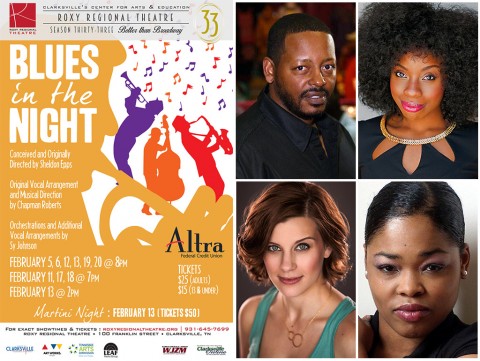 Set in 1930s Chicago, the story of three women in love with the same no-good man is told through over two dozen hot and torchy numbers covering the range of this indigenous American art form, from Bessie Smith to Duke Ellington, Johnny Mercer, Harold Arlen, Alberta Hunter, Jimmy Cox, Ida Cox and more.
In advance of his turn as Dr. Martin Luther King, Jr., in the Roxy Regional Theatre's upcoming production of Katori Hall's The Mountaintop, Phillip Bernard Smith takes on the role of The Man in the Saloon. Following her Roxy debut in Eve Ensler's The Vagina Monologues, Mariah Sade Ralph plays The Woman of the World, North Carolina native Dwan Hayes is The Lady from the Road, and Kansas native and current Clarksville resident Lacey Connell rounds out the cast as The Girl with a Date.
Conceived by Sheldon Epps and directed by Tom Thayer, "Blues in the Night" features Thayer on piano, accompanied by John Waddle on bass and Thad Wallus on drums, performing such bluesy, jazzy tunes as "Nobody Knows You When You're Down and Out," "Rough and Ready Man," "Wild Women Don't Have the Blues" and more.
The evening performance on Saturday, February 13th, will be offered as part of the theatre's popular annual Valentine's package, "Martini Night." Beginning at 7:00pm, patrons can pair gin and vodka martinis with sumptuous hors d'oeuvres including antipasto, smoked mesquite BBQ meatball sliders with caramelized onions, teriyaki chicken pops with Bangkok peanut sauce, and custard-filled Italian cream puffs in chocolate dipping sauce. Non-alcoholic punch, coffee and water will also be available. Tickets to "Martini Night" are $50.00.
"Blues in the Night" runs February 5th through February 20th, playing February 5th, 6th, 12th, 19th and 20th at 8:00pm; February 11th, 17th and 18th at 7:00pm; and February 13th at 2:00pm.
Tickets are $25.00 (adults) and $15.00 (ages 13 and under) and may be purchased online at www.roxyregionaltheatre.org , by phone at 931.645.7699, or at the theatre during regular box office hours (9:00am to 2:00pm, Monday through Friday, and one hour prior to curtain). Active-duty military, APSU students and CitySaver coupon holders can receive two tickets for the price of one to Wednesday and Thursday performances during the run.
This production is made possible in part through the generous support of Altra Federal Credit Union. Additional funding support has been provided by Ken Grambihler and Hugh & Joy Hatcher, along with Dr. Ernest & Joan DeWald, Barry Kitterman & Jill Eichhorn, Dr. Gary & Janet Mund, and Dr. John & Cathy Stanton.
The Roxy Regional Theatre is located at 100 Franklin Street in Clarksville, TN.